Advent Calendar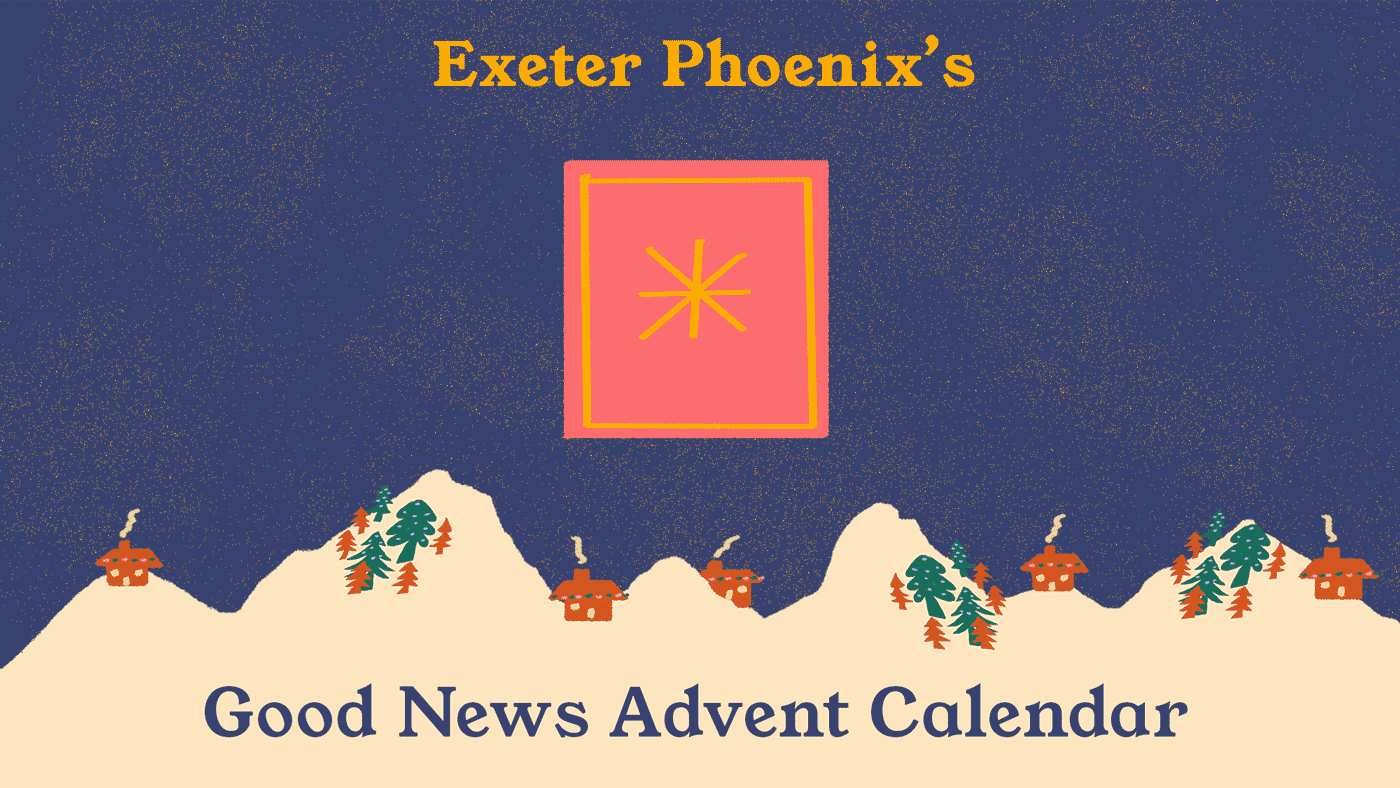 This advent, we are doing things a little differently to usual. We reckon that Exeter could do with some good news, so every day of advent we're going to be sharing just that! Get ready for some festive cheer, Exeter Phoenix style. 
Behind each window, you will find stories full of good news and positivity from what has without a doubt been a challenging and bizarre year for us all. Keep an eye out for a few special giveaways and prizes along the way too! 
We'll open a new window every day of Advent on the calendar below, or follow along on our Facebook page.
Exeter phoenix's good news Advent Calendar
Earlier this year, we welcomed our first artist in residence, Lucy Bell. Lucy has just embarked on a brilliant new project called Props, co-produced by Exeter Phoenix. Lucy will create a series of radio plays for broadcast on the National Prison Radio, as well as broadcast locally to the public.
You can read more about Props here >>
Back before the world was talking about a virus, everyone was talking about Parasite – winner of the Best Picture at this year's Oscars. This year also saw Jim, our first in-house film reviewer, join the team! 
You can read his take on Parasite here >> 
As lockdown took hold of the country, we all started paying more attention to our local environments. None more so than the ten artists we commissioned as part of the Hyperlocal commissions, creating artworks relating to their immediate domestic environment. We were humbled and inspired by the region's talent.
You can find the final ten commissions here >> 
Back in September we partnered with Documental Theatre's #WhereTo project. We shared films made by over 70 South West artists and theatre companies online whilst our own theatre was dark due to lockdown. #WhereTo helped South West based artists get their work seen and started interesting creative conversations.
Read more here >>
It was a delight to reintroduce theatre to our programme in October thanks to Paddleboat Theatre's pay-what-you-feel performances of According to Arthur. Over the half term, dozens of families were able to enjoy a spot of culture in a safe, socially-distanced setting. We can't wait to welcome them back this festive season with their new show Dream Maker which is with us from Mon 21 Dec!
This year saw a brand new type of show touch down in Exeter as we were visited by royalty (of sorts). It was a joy to take part in Klub Kids' Rupaul's Drag Race UK alumni tours, with visits from iconic queens Baga Chipz and The Vivienne! We hope the Drag Race fans amongst you look forward to more familiar faces making their way to Exeter in 2021.
We know how much our weekly creative sessions mean to our Freefall and Freefall+ youth arts group members. When lockdown hit, Freefall's workshop leader George showed his dedication by hopping on his bike and cycling arts and craft supplies to everyone in Freefall. Lockdown wasn't going to get in the way of their sessions, which were adapted to Zoom!  See more of what Freefall have been up to here >> 
We look back at February fondly for the fantastic hometown gig of Pattern Pusher at Exeter Phoenix. They hosted their biggest independent show yet as part of their yearly 'Pattern Pusher Presents' showcase which featured West Country talent like Foniee, Cousin Kula and Shake The Geek. The celebration of cutting edge live music featured indie tunes and a fantastic lights display courtesy of Kaleider. Take us back!
Despite the challenges, we kept the conversations around cinema going throughout the year with a mixture of in-person film screenings, Q&As and virtual cinema events. Join the conversation – we'd love to hear what your 2020 cinema highlights are! You can 
find out more about our independent, solar-powered cinema Studio 74 here >>
Can it really be almost a year since we welcomed in 2020 with one of our biggest New Years Eve events to date?! 'Party Like It's 1999' was a celebration of all things millennia and was organised by party planner & 90s nostalgia extraordinaire Abi Will. This New Year's Eve is looking like a much quieter affair, you can look back at all of last year's fun by checking out some of the snaps here >>
Today we're highlighting the work of one of Exeter Phoenix's own creatives. We were immensely proud when our live programme coordinator Naomi Turner was selected to be part of New Creatives, a nation wide scheme to help emerging film artists from Arts Council England. Naomi's film 'Scapelands' premiered on BBC4 back in May, exploring our primal connections with nature and the effect of urban living on the human mind. You can watch th film here >>
We were delighted to announce that Exeter Phoenix was been awarded £5,200 from the BFI Film Exhibition Fund. 
This funding will ensure you have the best cinema experience possible when we welcome you back to Studio 74 and will help us to engage with all kinds of audiences in Exeter. We can't wait to see you all at our solar-powered, independent cinema in 2021!
To mark International Women's Day, we welcomed the
Feminista Film Festival to our screen, bringing an inspiring selection of short films telling incredible stories about women and girls from around the world featuring films from Wales to Pakistan, about everything from swimming to activism!
Our last bit of good news from the year... 2020 was the year that confirmed that our audience and community are every bit as wonderful as we thought.
Whether you donated, bought a t-shirt, held onto a ticket, popped in for a coffee, or sent us encouraging messages, thank you. We couldn't be here without you!
From all at Exeter Phoenix – thank you!