Studio Classes (Externally Run)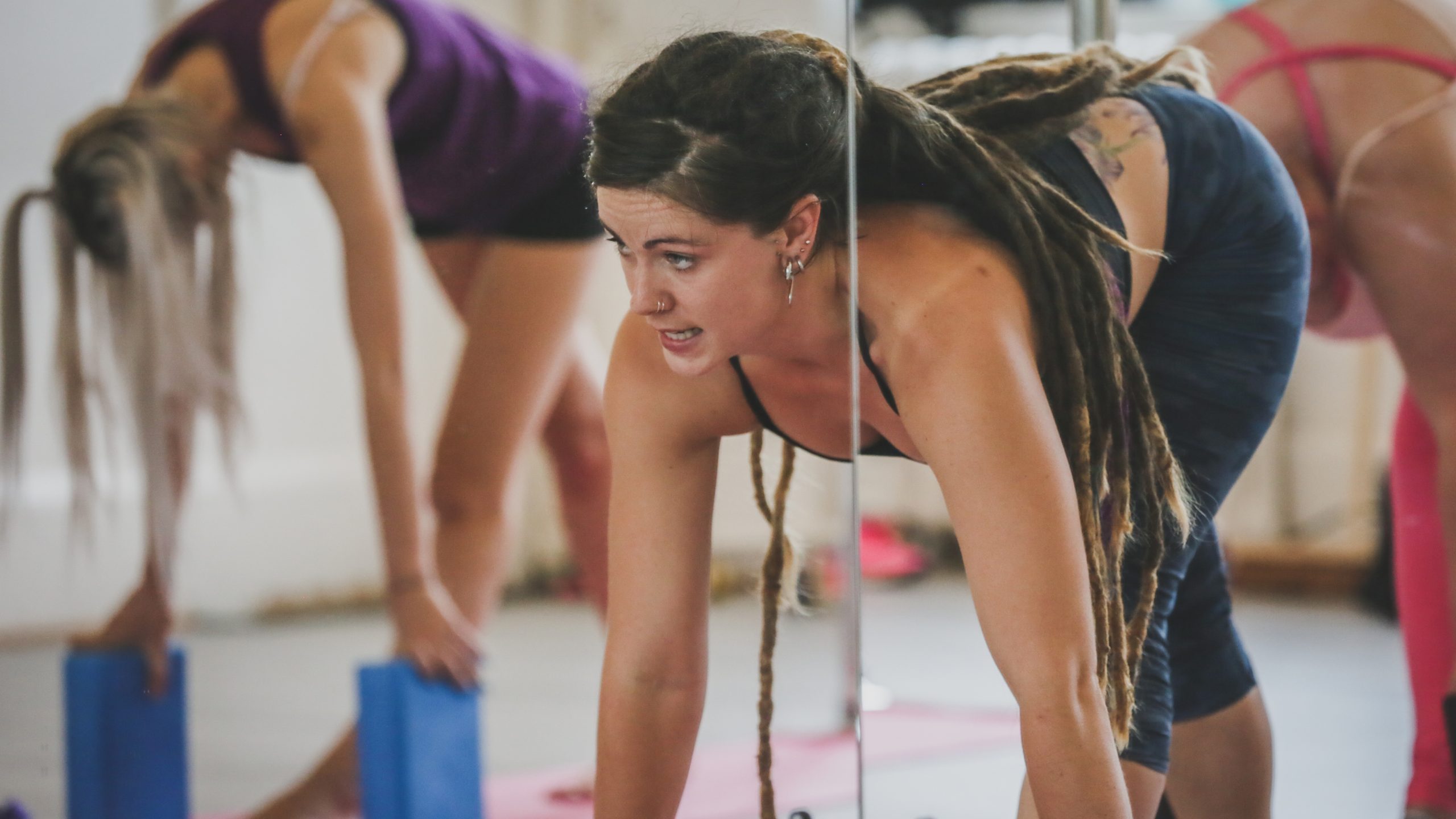 As well as our own programmed activity, Exeter Phoenix is home to a wide variety of studio classes and workshops that are run by external tutors.
Read on to find out more about the externally run dance and fitnesses classes that take place under our roof.
Class term breaks or alterations not included; please contact tutors directly for specific class dates.
CHHAYA Youth Dance Company
Chhaya Youth Dance Company was established in 2015 and provides an excellent opportunity for young dancers, aged 13 to 21 years, to develop their technical, creative and performance skills. The company runs a weekly class at the Exeter Phoenix Dance Studio and strives to offer dancers an insight into the multidisciplinary, intercultural and diverse ways of working as a professional dance artist. The classes are primarily contemporary based, but weaves influences from a range of styles, including Bharatanatyam, Kalaripayattu, African Forms, Social dances and Contact Partnering. Chhaya Youth are regularly involved in film projects, live performances, site specific performance, curtain raisers for visiting professional companies and workshops from renowned artists.
Dates & Time: Mondays, 4.30pm-6.30pm
Price: £80 (£65*) per term
To join contact Kay Crook: 07964899802 / kay.crook@chhayacollective.com
Website: chhayacollective.com
SALSA CLASSES
All welcome. Come and join us every Monday – we have salsa classes for all levels and beginners are always welcome. As well as teaching you the techniques & moves you need to hit the dance floor, Angus Peters & the Abanico Salsa team will make sure you leave class with a smile on your face! We have a great fun bunch of students & dancers and we always look forward to our Monday evening lessons.
Contact us any time to find out more…
Dates and times: Classes take place on Mondays at the following times:
7.00pm – 8.00pm: Beginner (Level 1)
8.00pm – 9.00pm: Technique (Level 2)
9.00pm – 10.00pm: Improver (Level 3)
Price: One class £8, two classes (on the same evening) £10.
To join contact Angus Peters: 07771666119, angus@abanicosalsa.com
Website: abanicosalsa.com
Pilates
Julia has been teaching pilates for 18 years. All exercises are modified to suit individual requirements. This is tailor-made for you so if you have injuries, are post-op or want to combine a different type of workout to your running and cardio, then this might just be the thing.
Dates & Times: Mondays, 9.30am-10.30am
Price: Contact tutor
To join contact tutor Julia Macquisten: 07968952850 or info@lucasfieldmedia.com.
tonep2fitness | pilates with doris
Improve Posture, Mobility & Balance. Gain core strength & flexibility
Have fun & learn to relax!
Suitable to all levels and ability.
Dates and times: Tuesdays, 10am-11am
To join contact: doris@toneup2fitness.com | 07769 687319
MAGIC CARPET
Inspiring growth, well-being and compassion through the power of creativity for people challenged by health or social circumstances.
Please contact Magic Carpet directly for more info, dates, and fees.
Tuesday Club: 1.30pm-3.30pm, Tuesdays
Thurspians, Too: 10am-12pm, Thursdays
Open Studio: 2pm-4pm, Thursdays
Creative Changes: 10.30am-12.30pm, Fridays
Snapdragon: 1.30pm-3.30pm, Fridays
South West Dance Hub
South West Dance Hub is an inspirational space for professional dance artists and choreographers to share, learn, grow, support and be supported.
These co facilitated sessions will focus on contemporary dance techniques, improvisation & choreographic exercises. There will be space to share your projects & explore collaborations, in a supportive space.
Dates and times: click here
To join contact: Ruth or Jenny at ruth.danceartist@gmail.com | jennyppill@yahoo.co.uk
A Chance To Dance For Over 50s
Come and join in, dancing to world and other music in a relaxed and welcoming space. The steps and routines are fun and usually easy to follow! Some come with dance experience, others with no formal background, what's more important is a willingness to explore your own movements and enjoy yourself.
Dates and times: Tuesdays, 2pm-3pm with occasional breaks.
Price: £5
To join contact Jessica Cohen:  jessicacohen402@gmail.com | 07931 534 284.
FLAMENCO CLASSES – ADULTS

Flamenco-the fiery & passionate dance from southern Spain. Fun classes will improve fitness, co-ordination, posture & confidence! Learn footwork & bodywork technique and full choreographies, classes are accompanied by live flamenco guitar. Opportunities to perform for those who'd like to! Classes are great fun, excellent for building core strength and improving general fitness, and suitable for women & men of all ages and abilities.

Dates and times:
Wednesdays
6pm: Beginners – no experience needed
7pm: Technique – all levels
8pm: Intermediate – for more experienced dancers
Saturdays
A variety of one-off flamenco workshops, some dates are beginners, some open level, some intermediate. Please contact karina direct for more info.
Times:
11am-1pm or 10.30am-12pm & 12pm-1.30pm, depending the week/dance. 
Please check with Karina directly here before attending in case of date changes/ holiday
Price: First class £8, then £8 per class advance/ 2 hours £15  | £10 drop in per hour
To join contact Karina Gracia: danceflamenco@live.com | 07813 990937
Facebook group: Karina Gracia Dance  
DanceXe (17+)
DanceXe is a fusion of hiphop and jazz styles of dance to popular music. These classes are aimed at anyone who wants to have a good dance and either learn how to move or perfect and improve their existing skills. The class is also followed by an extra 30 minute stretch class for those who want to incorporate yoga and flexibility into their routine!
Dates and times: Thursdays, 7.30pm-8.30pm |  Studio 1
Price: £9.50 per class & £5 for flexibility flow
Package deals available on website
For more information and to book a class visit: www.rosieellisyoga.com
APPALACHIAN CLOGGING WITH ALIVE & KICKING
Exciting percussive dance to live music from our own Old Time String Band. We will teach you steps in the first half hour that you can use in a dance with the team in the second half hour. Hard soled shoes or taps.
Please contact us for dates of open practice sessions when you can meet the team, see us dance and try it for yourself.
Dates and times: 2nd and 4th Thursdays from 14th September, 7.30pm-8.30pm. Contact Jo for full details.
Price: £5 per session
To join contact Jo Wright: enquiries@alive-and-kicking.org.uk
DIMENSIONS FOR AUTISM
Dates and times: Fourth Thursday of each month, 2.30pm-4.30pm
To join contact Trish Darke: trishdarke.dimensionsforautism@gmail.com | https://www.dimensionsforautism.life/
JAZZ DANCE FOR ADULTS: BEGINNERS & IMPROVERS (16+)
If you love to dance but never had the chance to learn or you haven't danced for a while, then this is where you begin. You will learn technique, routines, keep your brain alive, become more flexible, get fit & have fun in this very friendly class of mixed ages & abilities.
Dates and time: Thursdays, 6.15pm-7.15pm
Price: £6 per class or £55 for 10 classes
To join contact Nicholette Pollard: 07810 750950 | info@jazzdanceexeter.co.uk
Website: www.jazzdanceexeter.co.uk
BALLET FOR ADULTS IN EXETER (16+)
We welcome everyone from those who have always wanted to try ballet to those with more experience – Men and Women equally welcome. Classes are taken by Anne Jobson – who has been teaching ballet to adults at Exeter Phoenix for over 5 years. There is a 15 minute period before and after class for checking in, warming up and changing. This class is aimed for beginners and those with some experience.
Class dates and times: Fridays, 7pm-8.30pm (Class starts at 7.15pm, you can arrive for set up just after 7pm)
Price: £8.00 per class. Payment in cash or card on the evening.
To join contact Anne Jobson:  07958739896 | 01392421420 | FBook: Ballet In Exeter | annejobson@hotmail.com
Zumba with Rosalie
Let's party! Come and move with us by doing Zumba!  Burn calories with Latin, West Indian songs. The best part of it is that it doesn't even feel like exercise!
Dates and times: Saturdays at 11am
Price: £5/session
To join contact Rosalie: at 07934927113 or rrtherapies1@gmail.com