News and updates from our Creative Hub Virtual Relaunch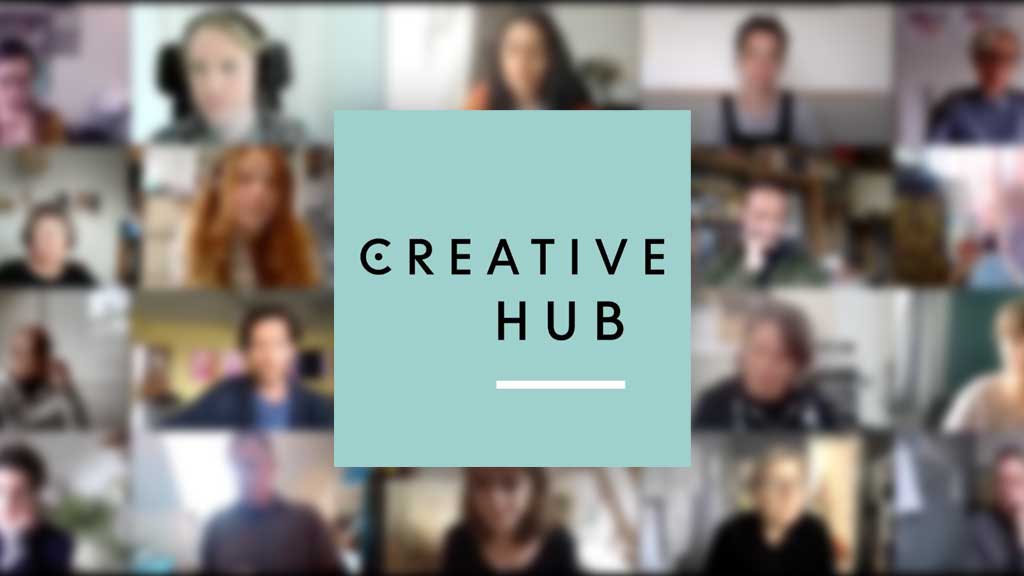 Want to hear the latest from Exeter's creative community? Catch up on last week's Creative Hub Virtual Relaunch by watching the video below!
The event saw our Programming team share what they are excited to see in Exeter Phoenix's programme this summer, news about upcoming projects and opportunities, and introduced special guests and associate artists to talk about creative projects happening in the region.
Below the video you'll find highlights and links to some of the stories and opportunities we were talking about. We look forward to welcoming you back to Creative Hub events in the future.
Visual Arts News
Our Curator and Galleries Manager Matt Burrows kicked off the event by sharing the news that our galleries will reopen on Mon 17 May. The reopening will see the return of a solo exhibition from Huhtamaki Wab and a new exhibition from Catherine Knight.
Matt also spoke about Correspondence – a new opportunity for visual artists that we are running in partnership with Broadway Gallery in Letchworth. Artists from Devon can submit their interest for the project until Mon 31 May.
Kathy Norris, our Visual Arts Programme Coordinator shared that our art classes and workshops will be returning soon with a mixture of in-person and online options to suit different preferences. Kathy is also excited to see the return of our Social Practice programme which will include workshops from Scotty Gillespie and Maddy Hearn. 
Kathy introduced our associate artist Brendan Barry. Brendan spoke about his current Positive Lights Projects which is supported by Exeter Phoenix. Find out more about the Positive Lights Projects here, and sign up to their newsletter to hear the latest.
Live Programme News
Naomi Turner, our Live Programme Coordinator revealed some exciting news about upcoming outdoor theatre festivals which will see Exeter Phoenix takeover spaces in Rougemont Gardens this summer. More details coming soon! We will also be hosting some events in our own 'Secret Garden' and look forward to in-person indoor activity returning once restrictions ease.
Naomi is looking at some community focused programming this summer, and encourages anyone who is looking for a platform to share their work to get in touch with her by emailing naomi.turner@exeterphoenix.org.uk.
Keep an eye out for some upcoming theatre commissioning opportunities. Details of these new opportunities from Exeter Phoenix will come later this summer.
Naomi introduced her guest Charice Bhardwaj, who is one of our Associate Artists. Charice shared news of an upcoming family show from Quirk Theatre that she is working on, a recent spoken word commission (watch it here!) and an upcoming cabaret show about NHS nurses which she is currently working on with her collaborator Rosie Race.
Film & Digital News
Luke Hagan, our Digital Programme Coordinator, shared news about our upcoming digital programme of activity. Courses will slowly be returning, but Luke encourages anyone to get in touch by emailing luke.hagan@exeterphoenix.org.uk if there is anything they want to skill up in and we can talk about 1:1 or bespoke training packages.
Submissions are now open to the next Two Short Nights Film Festival which will take place in February 2022.
Luke shared news of a new National Lottery funded project we have just begun to work on that will examine the city's rich cinema heritage and share stories of people's first memories of cinema in Exeter.
Luke shared a video from our commissioned filmmakers, whose films will all be premiered at next year's Two Short Nights Film Festival.
Tia Salisbury has been awarded the South West Short Film Commission to make a short comedy called Placenta Paté which explores the highs and lows of becoming a new parent, told through the eyes of same sex parents.
Beth Emily Richards has been awarded the Devon Short Film Commission to make a short called Raptors which looks at birds of prey in urban environments, and the people and communities who work with them.
Tom Stockley is an artist, poet and performer who has been awarded the Micro Film Commission for Salt In The Wound, which will be a spoken-word film about his experience growing up in the working-class suburbs of Torquay and the relationship between the coast and his identity as a queer person and where he is today.
Joe Inman is one third of the filmmaking collective Bear Behind You who have been awarded the South West Documentary Commission for A Village With A View, which looks at a small Cornish community trying to keep their houses from a wealthy landowner who wants to take them away.

Lois is working on a Micro Commission called Crave which is a micro mystery about a woman who reinvents herself. We are really exited by this year's line-up, and we look forward to sharing more updates from our commissioned filmmakers soon.
Claire – our Film Programmer – shared the news that our cinema will be reopening on Mon 17 May, when we will return to bringing unique stories, films and experiences to Studio 74. Our upcoming programme will be announced soon, including Award Season successes Sound Of Metal and Nomadland.
Claire introduced Laura Denning who is representing our new associate artists, Cine Sisters South West. We are excited to say that Cine Sisters SW will be hosting the next Creative Hub Social, we anticipate will take place in a hybrid online/in-person event on 27 May.
And Finally
Our director had the last word, sharing news of some of the events and activity he is looking forward to seeing return this summer. We look forward to welcoming back Respect Festival this year. The confirmation of restrictions easing further in summer will lead to more announcements and confirmation of more creative and cultural events for the city this summer.
All that remains is to say that we miss you all – it's wonderful to see the first step towards a return to normal with the reopening of our Café Bar, but we look forward
---
More From The Creative Hub
Follow the Creative Hub on Twitter >>
Find the Creative hub on Facebook >>