Catherine Knight
Isolation Windows
Mon 17 May 2021 - Sun 27 Jun 2021
Category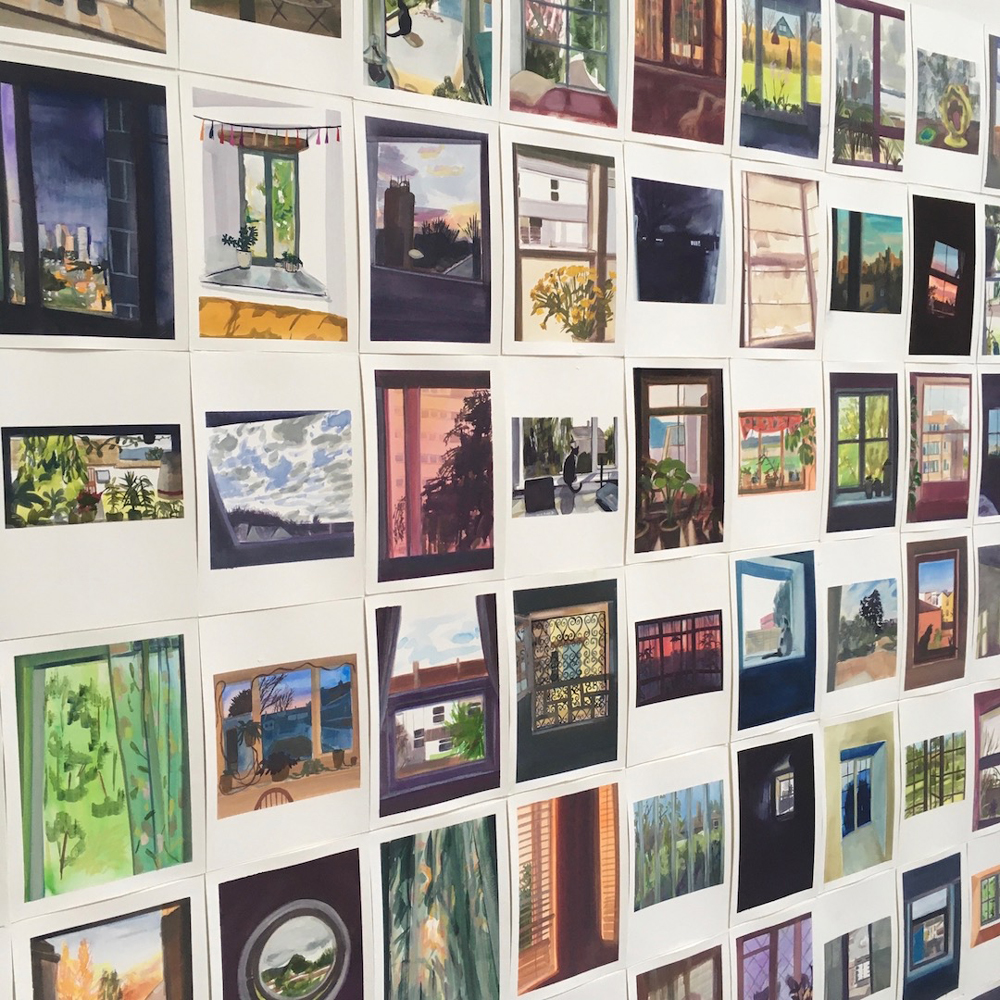 Catherine Knight
Isolation Windows
Phoenix Gallery
---
Exeter Phoenix is pleased to present Isolation Windows, a solo presentation of paintings by Bristol–based artist Catherine Knight.   
During the first COVID-19 pandemic lockdown in March 2020, Knight began collecting, painting and sharing images of other people's windows, as seen from their own locked-down environments. Connecting online with friends, and friends of friends, she managed to collect images from across the globe, using the short amount of time that she could carve out from family life to paint small gouache paintings from their photos and sharing them through social media. Fittingly domestic and intimate in scale, each painting is executed on an identically formatted sheet of A5 paper, the uniformity of which, echoing the universality of her subject.  
Lending the artist a rhythm and sense of purpose in a difficult and uncertain time, the project allowed her to visit, albeit in her imagination, other people's houses, other countries, other continents, and to ponder our shared global experience.
---
'This act of shared imagining is timely, offering sensations of closeness with friends and strangers alike. Though actual human figures never find their way into her paintings explicitly, they are ever-present by implication, through traces of everyday actions: the top of a chair tucked under a table, a towel drying on a railing, a window left ajar, a curtain hurriedly not-quite-drawn. These domestic objects and adornings become proxies for the absent humans; the scenes as a whole, like still-life glimpses into the lives of others.'
EXTRACT FROM LIZZIE LLOYD'S ESSAY 'A VIEW OF ONE'S OWN' (2020)
---
Knight's paintings somehow manage to speak to, and for, all of us in a way that almost everyone can identify with in some way. Whether reflecting something of the solace that a view may offer in confinement, or the quiet moments of contemplation and longing that so many have experienced in our reduced surroundings. 
Catherine Knight's book Isolation Windows, with images painted during the UK's first national lockdown and an essay by writer Lizzie Lloyd, is available to buy in the gallery and online here. You can follow the on-going project on Catherine's Instagram feed @catknightart. 
Anyone is invited to post a photograph of their own Isolation Window (including the window frame) in response to Catherine Knight's on-going project, via their own Instagram, Twitter or Facebook feeds. Posts should use the hashtag #MyIsolationWindow along with your first name and location and include the window's frame. From these the artist will select and paint further images for inclusion in her on-going project, and which may be added to the exhibition as it develops.
---
Additional Activity
Artist Talk
Wed 23 Jun | 7pm | free (booking essential) 
Join the artist Catherine Knight as she discusses the exhibition and her wider practice. This talk is free, but booking is essential. The artists talk will take place in our cinema Studio 74 and will be a socially distanced event. The talk will be free, but booking is essential.
---
Additional Resources
Catherine Knight was interviewed by Arts Culture Magazine about the exhibition. Read the review here >>
---
Main image: Catherine Knight, detail of Isolation Windows, 2020