INTERVIEW: PATTERN PUSHER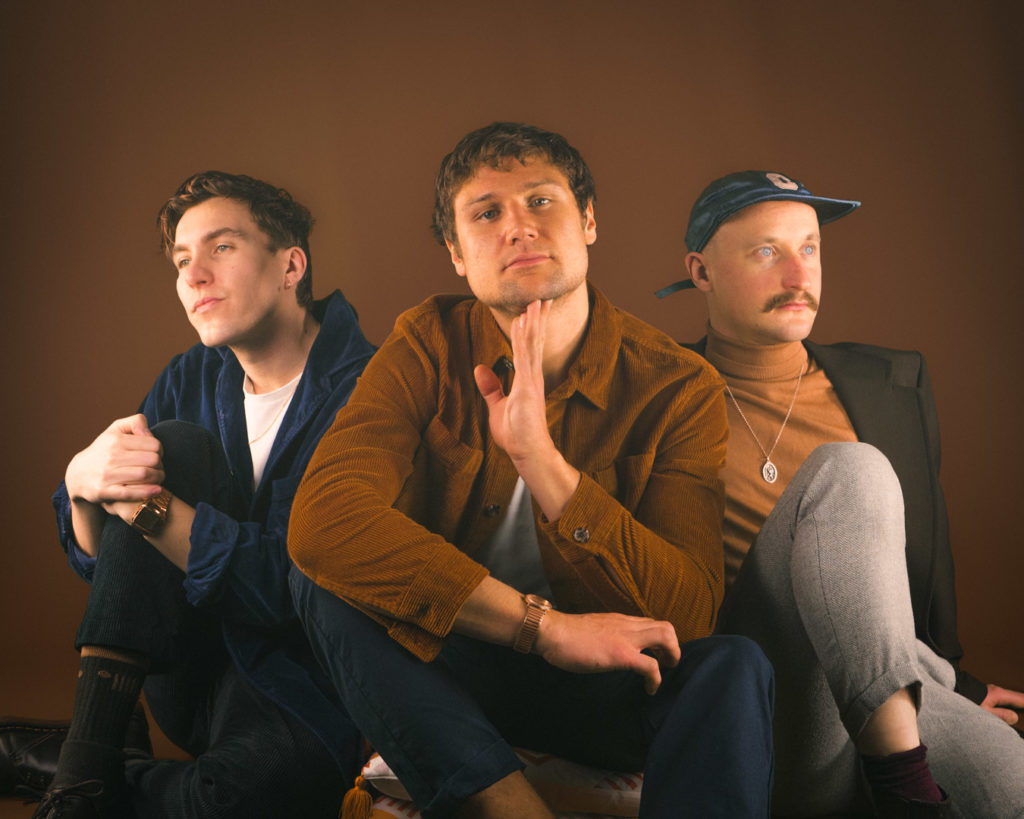 Exeter's very own retro-pop three-piece Pattern Pusher are back on a mission to uplift and inspire with feel-good music that is hitting all the right notes in a world that is crying out for positivity!
We caught up with them ahead of their headline show in the Exeter Phoenix auditorium, Friday 1st April. Not got your ticket yet? Get yours here!
You can also check out their new single – out today! Listen here
Firstly, can you introduce yourselves?
Alex: I'm the singer and keyboard player!
Ben G: I play the bass and run around lots.
Ben C: I smash the drums and will be the one with a big grin on his face!
Could you tell us a bit about Pattern Pusher and what you do?
Alex: we're a fun loving trio playing upbeat, soul-inspired indie disco. If you've seen us before you'll know we have a high energy live that we've been told is addictive.
What's the most outrageous band story you can share?
Ben C: as part of a music video (Shakey) we drove a van full of speakers and lights outside a club at primetime Saturday night for a flashmob rave. It was absolute carnage, people joined in and climbed on the van. We had to be organised and used walkie talkies to avoid getting shut down!
If you curated your dream festival who would play?
Ben G: Gotta be Radiohead
Alex: Jungle (the band not the genre!)
Ben C: The Band!
What can we expect from your show at the Phoenix on April 1st?
Ben G: High energy and a few surprise additions…
Ben C: We're going all in for our favourite hometown show.
Alex: The last time we played the Phoenix was back in February 2020 so we're long overdue for a huge party with you.
What's the best gig you saw at the Phoenix?
Ben C: I saw Squid not that long ago and was blown away by their live show.
Ben G: Everything Everything were incredible! I also really enjoyed all the Radio 1 Live Lounge sessions when that was here.
Alex: I think it's gotta be Gentleman's Dub Club for me, they bring the energy every time.
What company should sponsor your band?
Alex: Lucozade, sometimes it's the only thing that can get us through a messy morning from the night before…
Ben G: I think we'd be happy with most beer providers to be honest!
Ben C: That or Ford & their Fiesta range, if a car that small can get 3 guys and all their musical gear up and down the country successfully for many years that deserves a shout out.
Previously you've used your gigs at the Phoenix to showcase local and up & coming acts, can you tell us about who you have in store for us this time around?
Ben G: I found this really cool sounding band from Leeds called Heir. They have a similar poppy upbeat vibe to us, with a bit of an 80s tinge. They're really groovy and I think people are going to enjoy them a lot! I'm looking forward to seeing them.
Ben C: Our good friend & amazing DJ Cal Griffin has started a new band called False Worth. They have a lively pop-punk feel which is something a bit different for us! They're all great musicians & as it's their debut show as this outfit everyone has to get down early and give them some love.
Alex: We've got Poppyshow opening up the evening. We're really excited to have them join us as we've known them for many years and they have an infectious energy that we can't wait to see on the big stage.
Quickfire round!
Who gets hangriest?
Ben C: We all know this one…
Alex: My hanger is infamous.
Ben G: It's like he shuts down, we've started keeping snacks on standby.
Who's first to crash out at a party?
Ben G: When I'm tired I'll find an excuse to dive out but I think we all know sleepyhead Ben C takes this one.
Alex: I've seen him fast asleep on a sofa all while carnage is breaking out around him. It's like a painting.
Any pre-show rituals?
Ben C: stretches and warm ups, Alex wandering around making weird childlike vocal warm up noises.
Alex: All the strange vocal exercises and a big pint.
Ben G: Jump practice.
What's your favourite song right now?
Alex: Jungle – Keep Moving
Ben G: Lucius – Next To Normal
Ben C: Buzzard Buzzard Buzzard – New Age Millennial Magic
Alex: You can find all those on our curated playlist for – Indie Spring Energy playlist we curated for The Phoenix!
Funniest story on the road?
Ben C: The time Alex nearly used one of those Dyson hand dryers as a urinal.
Ben G: Easily the funniest thing I've ever seen.
Alex: BY ACCIDENT I might add!
Thanks guys! See you at the show!