This event has passed.
Handmade Books
Sold Out
Category
Book Now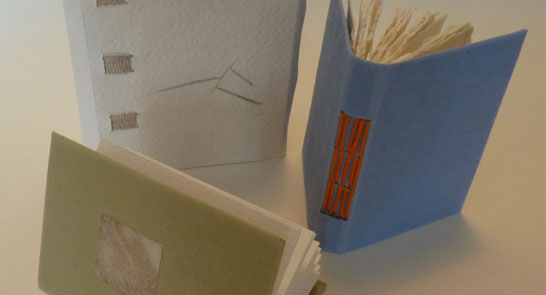 Handmade Books
*Subject to a £1 ticketing system charge. We don't charge this to make a profit. Find out more >>
Sold Out
Handmade Books
Link Stitch Bindings and Concertina Book
Learn to make three different books on this workshop with bookbinder Megan Stallworthy, including two multi-section books with exposed spines (pictured), and a hard cover concertina book. Perfect for artists, writers, teachers and anyone interested in making books, and suitable for complete beginners as well as those who have attended previous workshops. Participants will learn core bookbinding skills of folding, cutting, sewing and glueing and take home their handmade books along with a set of workshop notes. All the materials and equipment will be provided.
TUTOR
Megan Stallworthy is a member of the Devon Guild of Craftsmen and an associate lecturer in Bookbinding at Falmouth University.
VENUE: EXETER PHOENIX