Your Favourite Arts Venue Just Got Greener!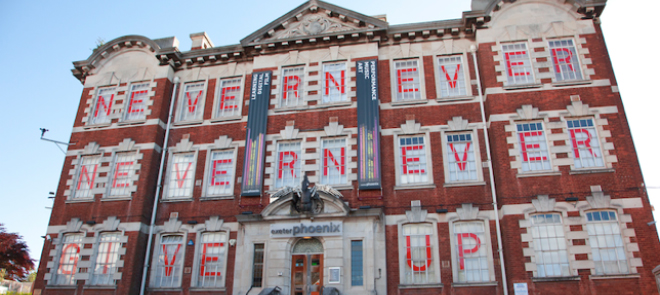 Your Favourite Arts Venue Just Got Greener!
In 2015, Exeter Phoenix made history by opening Studio 74 – the first solar-powered cinema in the region. Now, thanks to the success of a recent Crowdfunder project, the arts venue is on the way to establishing a solar-powered auditorium as well.
This week Exeter Phoenix beat its Crowdfunder target of £3,000 to raise money towards creating a solar-powered auditorium in the venue. The money raised will go towards changing the theatre lights to LED lights. Moving from incandescent lighting to LED will mean a significant drop in the amount of energy used by the venue each day. For example if eight of our most powerful lights were replaced with LED, the energy consumed by them would be covered more than three times over by the solar panels.
---
Speaking about the project, Laura Cameron Long said: 'We take our environmental impact very seriously, and are always looking for innovative solutions that will benefit our planet. We're proud to be paving the way for a greener future for the arts in Exeter and beyond. None of this would be possible without our community's support.'
---
Whilst this is a phenomenal step in the right direction, there are still a lot of green initiatives the venue is looking to implement. If you missed out on your chance to support the Crowdfunder, there is a special Green Donations page here >>
---
THANK YOU TO OUR SUPPORTERS
A huge thank you to you, our wonderful supporters. We very literally couldn't be doing this without you.
John Cowen

Jordan Thomas

Dettie Ellerby

Thomas Ryan Gunning

Ashley Dashwood

Steven Keightley

Simon Forty

Mbooker

Nick Ireland

Tom Willcocks

Stuart Bellworth

Anna Ruth Peel-Cusson

David Hatton

Quentin Tailford

Naomi Sargeant

Roger Harbord

T Harron

Ian Farnfield

Tim Abrahams

Angie Gill

Rachel Dobbs

Tom Gibbs

Caroline Winyard

Deborah Barringer

Andy Gilbert

Martin Weiler

Amanda S

Mary Peat

Lindsey & Chris Thomas

Chris Rice

Carolyn Southcott

Elaine Evans

George Goodwin

Lisa Alberici

Melissa Mitcheson

Aengus Little

Simeon Costello

Sarah Mills

Chris Wright

Mary Costello

Will Braithwaite

Benjamin Conibear

Tom Milburn

Sarah Johnson
Saara Ord
Donated but don't see your name here? Please email us at marketing@exeterphoenix.org.uk if you would like to be included on the supporters page.
---
Image Credit: LOWPROFILE