Welcome Back To Studio 74 – We Have Missed You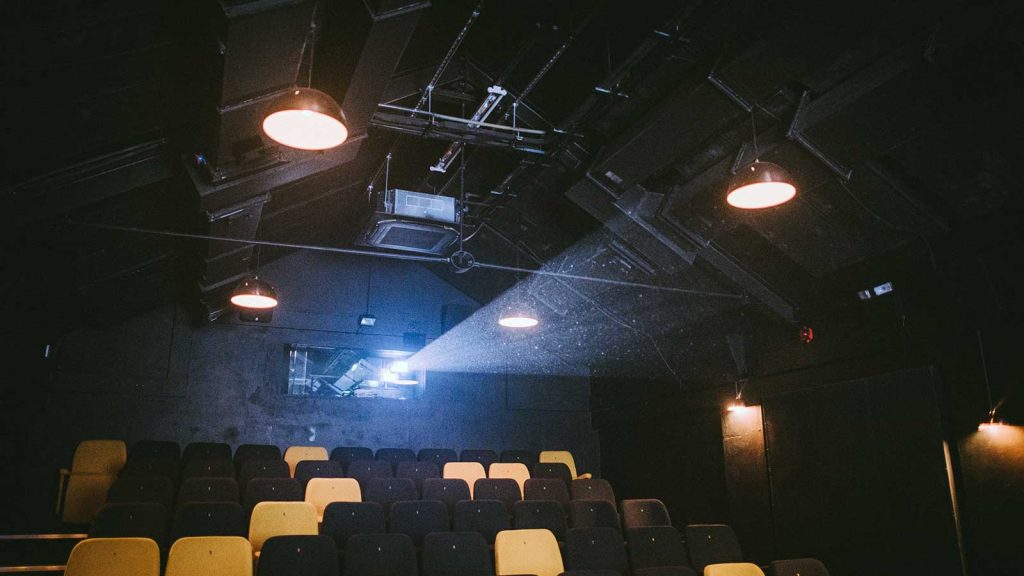 LOCKDOWN UPDATE: WED 3 NOV
With the recent announcement of a second lockdown, we are having to postpone our activity and will close the building from Thu 5 Nov.
We loved welcoming you back for the socially-distanced events we were able to host, and we want to thank each and every one of you who visited us since our reopening for being so respectful of the rules that we had in place. We are certainly going to miss you over the next four weeks, but look forward to welcoming you back once more.
Read more about what this lockdown means for you as a ticket holder and what you can do to support Exeter Phoenix here >>
---
Welcome Back To Studio 74 – We Have Missed You
A little over six months ago, we switched off the Studio 74 projector and along with every other cinema in the UK, our screen went dark. In the absence of cinemas, Exeter Phoenix remained present in the form of our virtual cinema programme and our Front Room Phoenix shenanigans. It has been an incredible and fascinating journey in the evolution of cinemas and relationships with our audiences. We thank you all from the bottom from our hearts for your continued support and engagement with Exeter Phoenix while our doors were closed.

And now… we're delighted to welcome you back for the big screen experience. With a collection of big screen exclusives and unique cinematic opportunities, we have never been more ready to welcome you back!

We understand not everyone is ready to join us back in the cinema, so we will continue to provide you with some of the best Virtual Cinema opportunities. We will be here for you when you feel ready to return. We will keep the conversations going and keep the home of Exeter's independent cinema warm and welcoming. For without our audience we are nothing… and oh we have missed you.

---
Here's what to expect in our programme…

---
What will your cinema visit be like, and what are we doing to make this a safe experience?

Like all venues, we have had to change the way we do things for the time being. We would like to share some of the extra measures we have put in place with you. Watch the video or read the measures below.

---
---
We have reduced the capacity in our cinema to enable socially distanced seating.
Floor markers are in place to enable social distancing whilst queuing and moving through the venue.
We have increased cleaning throughout the venue, paying particular attention to high-traffic and high-contact areas such as hand rails and doors. The cinema will be cleaned before and after every screening.
Hand sanitiser is available throughout the venue.
Staff and volunteers have been provided with detailed training and information about the new measures in place at this time. They are there to help, so do let them know if you have any questions.
We have had our ventilation system in the cinema inspected and maintained before reopening.
You must wear a face covering whilst entering/moving around the venue and in the cinema itself. You may remove your face covering to eat and drink only whilst in a designated seating area. Please be mindful that some people are unable/exempt from wearing a face covering, and the reasons for this may not be immediately apparent. If you are exempt from wearing a face covering, do feel free to let our stewards know this when you arrive if it would make you feel more at ease during your visit.
Unfortunately we are unable to offer a takeaway food/drink service under current guidance. However, our Café Bar will be open for food and drink before your film if you would like to purchase any refreshments.
---
These measures are being reviewed on a regular basis and will be updated as necessary.