We Just Got Greener!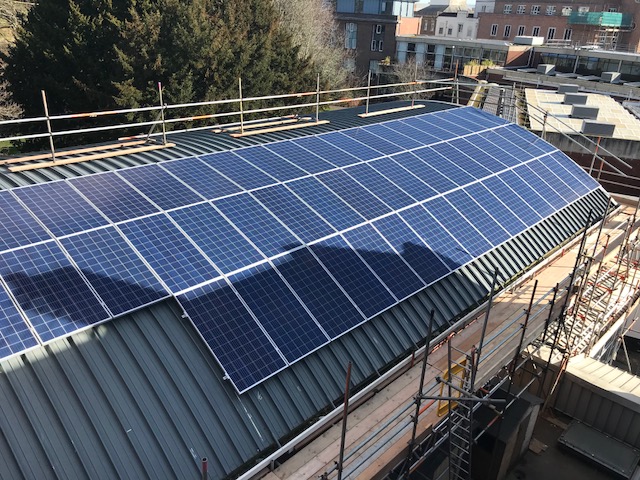 In 2015 we made history by opening Studio 74, the first solar-powered cinema in the South West. We have continued our commitment to paving a greener future for the arts in the city and recently added further solar panels to create a solar-powered auditorium and installed LED lighting throughout the building. The LED project was made possible thanks to a loan fromExeter Community Energy , whilst the Naturesave Trust and the Postcode Local Trust made the solar panel project possible.
Exeter Community Energy is an innovative social enterprise that enables local people to take ownership of renewable and energy saving projects to benefit the city, its people and the environment. The Naturesave Trustis the charitable arm of Naturesave Insurance and works to promote the adoption of sustainable development. The Postcode Local Trust was established in 2015 and funds projects that are beneficial to local areas.
Speaking about the recent projects, Exeter Phoenix's Fundraising and Development Manager, Laura Cameron Long, said:
Speaking about the recent projects, our Fundraising and Development Manager Laura Cameron Long said:
'As a venue and a charity, we are proud to be committed to green measures that help us create a sustainable future for the arts. These measures also help to reduce our costs so we can keep providing our community with the best the contemporary arts has to offer. The support from Exeter Community Energy, the Naturesave Trust and the Postcode Local Trust has enabled us to make a real difference and we are delighted to be able to continue our goal of creating a resilient future for our community.'
The new Photo-Voltaic (PV) system consists of 54 panels and will produce nearly 18kW of power. To put this in to context, an average household system will usually produce up to 4kW. The LED system will lower Exeter Phoenix's energy use by 38.12 tonnes of CO2 per year.
'We are keen to be an example to other arts organisations in our commitment to green living and these two exciting projects take us one step closer to fulfilling this.'