Want to us to wear your drawings?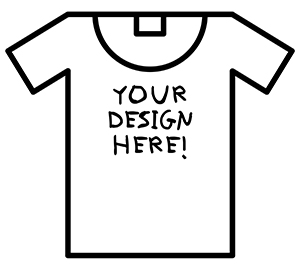 We're calling on all artists, doodlers and designers with a love of Exeter Phoenix to help us come up with a new T-shirt design to be worn by our café bar staff throughout 2017/18.
Our favourite idea will be selected in May and made a reality.
The design will be printed in white onto the back of black T-shirts. The front of the T-shirts will bear the Exeter Phoenix logo.
As an extra bonus, if your design is the one selected, we'll give you your own T-shirt, along with a discount card for our Café Bar which will be valid all year.
About the Design
The design can be anything you like. You're the ones with the ideas and we want to see them. Saying that, if it reflects our style and what we do here at Exeter Phoenix all the better.
The design will need to be a black and white image, suitable for screen printing on a black T-shirt.
No obscenities please (well, you can if you want, but we won't pick it).
Please remember that your design will be printed on the reverse of the T- shirt, not the front.
To Apply
Email your ideas through to marketing@exeterphoenix.org.uk by Fri 21 Apr.
In the body of your email: Please state your name, email, phone number and any written details you'd like to include about your design (such as size and scale if not represented in attachment)
In an attachment to your email: Please send us an A4 pdf or jpg of your design. The final result will be scaled to fit to the standard screen printing size for a T-shirt, which is 32cm (w) x 43cm (h).
Timeline
Deadline for applications is Fri 21 Apr
Four shortlisted designs will be announced Mon 24 Apr and then we'll be throwing it out to the public to vote for a fifth 'audience choice' to be added to the shortlist. Deadline for voting Fri 28 Apr.
Final selected design will be announced on Mon 1 May
The new T-shirts will launched at a special event in May and everyone's invited! Date TBC. We'll present all shortlisted applicants with their design printed on a one-off, exclusive T-shirt, and the overall winner will also get a discount card for a year's worth of discounted food and drink at our Café Bar.
Terms: Upon submitting your design, Exeter Phoenix retains the right to use images of your submission in social media posts and general promotion of this competition. No personal details will be shared unless you have given prior consent. If your design is selected as the winner, Exeter Phoenix retains the rights to the image for printing on staff T-shirts and any other uses deemed appropriate by the organisation.