The Future Of The Hybrid Festival
On the last day of our virtual edition of Two Short Nights Film Festival, festival collaborator Olivia Leonard considers the legacy of virtual film releases and asks how taking film festival online has shifted the landscape for audience filmmakers and festival producers. 
Whilst the future of cinema remains undecided, the concept of the 'Hybrid festival,' is beginning to emerge. 'Hybrid' is a blend of in person screenings and online.  Against the gloomy backdrop of another lockdown, Bond delays, Christopher Nolan's failure to 'save cinema,' and the closure of the Picture House, hope has appeared fleeting at times.
Anxieties surrounding COVID-19 have seen films scheduled for 2020 release, go straight to DVD or wash up on one of the many streaming platforms available to us. It's no surprise that like much of our own lives, film festivals have also relocated themselves online. With live streaming, master-classes on zoom and Q&A's with filmmakers, these events appear rich in content. Could this be a new way for film communities to extend their reach?
The London Film Festival had its highest attendance on record, in 2020, with live, virtual and online events. With 40% of it's audience spanning from outside of London, a new type of consideration is happening - a consideration that may not have occurred without CV-19. Tricia Tuttle, the festival's director highlighted this point, when speaking on 'Kermode on Film.' Two Short Nights, film festival co-producer, Claire Horrocks, also mirrored this sentiment. "We have been given the space to consider new ways to generate conversations around the programme and we have been able to develop rich partnerships with new festival collaborators which has been amazing.

A virtual filmmaker Q&A as part of Two Short Nights
Following LFF's success in expanding reach, the focus is now on ensuring this type of cinema is accessible for a wider audience – maybe even global. Developer for Film Festival Plus, Hermut Kuhn told me, "In my opinion there is a shift in the audience to a global viewership. We see about an average of 60% local audience and 40% all over the world. We are also getting more and more requests from start-up festivals going virtual-only." This being of interest to existing independent cinemas and towns/cities that are without them and those looking to create something of their own.
Although it has been the recipient of some negative feedback regarding limited opportunities to network, it could easily be argued that for better or worse, in person networking has long since been overtaken by online platforms.
Dr Rebekah Louisa Smith of 'The Film Festival Doctor' adds,  "Networking events can work online and that strong event management and frequent communication can make filmmakers feel like they're part of a festival. Networking and industry events are key components of the hybrid film festival model."
For existing independent film communities, the hybrid festivals presents an important opportunity for communities to reconnect and network during a time of social isolation. In particular, a chance for localised networks facing similar struggles in programming, to advise and support one another.
As Claire Horrocks says, "We were concerned about the accessibility of the festival and how we would manage to retain the community which surrounds Two Short Nights."  She adds, "We are lucky to be part of such a great network of film festivals and regional cinemas, who are experiencing the same struggles as us at Exeter Phoenix. Thankfully we were never far away from some sound advice or good suggestions."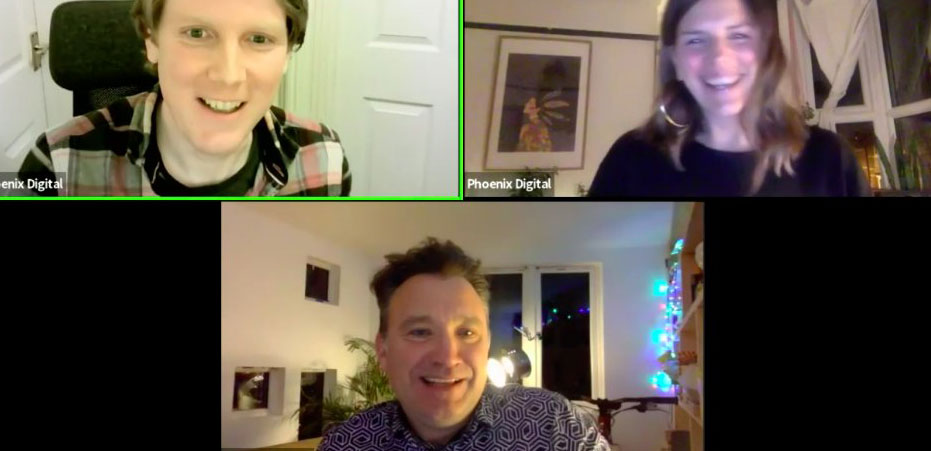 Festival organisers Luke, Claire and Jonas host the virtual awards ceremony
Could Hybrid festivals become a culture hub for regional independent cinema? As Dr Rebekah informed me, "Yes hybrid festivals are here to stay and yes, they do have the potential to become community hubs as this is their main focus - building a strong and engaged community."
Engaging with these platforms is important, to ensure (that) when our third lockdown is lifted, we can physically return to these places. Yes, it's a rather fatalistic outlook. However, it is a reality that audiences and punters alike, will encounter regardless of whether they're after a beer or a Spike Lee and David Byrne collaboration.
Dr Rebekah adds, "It's extremely important that we engage with the smaller, local community driven film festivals as they are supporting the independent film community and celebrating independent film. They're key platforms as they offer a space to collaborate, connect and entertain audiences."
Aside from this, the more obvious advantages for streaming at home currently is, the break it provides from the monotony of our third lockdown. For me, the prospect to be involved in the festival, gave me a chance to connect with my partner on a different level. Trivial, nightly fights surrounding what we should be watching had become a pattern. Often resulting in not watching anything as a bi-product of endless scrolling and debate.
The format for watching these films was easy. A big draw being (that) the films are of course, short - meaning they have an instant impact for audiences- and categorised by theme. So it's easy to navigate according to your mood. The conversations following each category established a needed relativity between his working from home and my third bout of furlough. Even if you have some form of human connection in your home, it doesn't mean to say that disconnect can't also occur, with long bouts of one-on-one time.
Perhaps during the extended period of reflection and deep thought, we have become more receptive to the message filmmakers are trying to communicate. And the importance of the communities we have left behind and hope to return to. The responsibility of creating innovative methods of engagement is on the organiser but it is important we seek to reengage with one another too.