BEHIND THE SCENES ON 'THE BLACK MIRROR OF DANCE'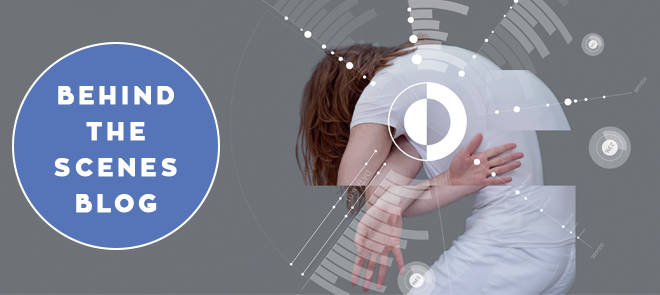 Behind The Scenes on 'The Black Mirror of Dance'
Do you use a mobile phone or computer every day? How much personal data do you give away each day to navigate your digital life? Could you unplug, even if you wanted to? Digital dance company Pell Ensemble invites you into the world of EPOQ: A live gaming experience where your choices become data, uploaded to shape a new human being.
Upon entering the space for their show Upload/Unplug, you will meet David. From the safety of your seat, through a custom built app, your every tap, swipe and swirl will inform who David becomes… But at what cost – will your data be put to good use? And what happens to it once the experience is over?
---
Ahead of Upload/Unplug coming here on Tuesday 5 November, we spoke to the company about the making of the show.
Read on to find out more, or book your tickets here >>
---
Where

did the inspiration come from for Upload/Unplug?

In 2014 we had the opportunity, by invitation from Arbeit Gallery, to take an on-stage work, collaborate with a walking app creator and turn it into a roaming performance that encouraged the audience to find and interact with different aspects of the performance via their mobile phones. This got me thinking about how we could create an interactive performance for theatre using mobile devices.

While discussing this with a creative coder they had a filter on their browser which showed how many data companies at one time were following our every tap and click, collecting and possibly selling and using our data in ways we had no idea about. This became our jumping off point.
---
How

did you decide who to work with on this production, and how did you all work together to create it?

I knew from the beginning that I wanted to work with dancer David Ogle, he has a keen understanding of technology and is a great collaborator. He also has the ability to conceptualise all the various elements that would be happening in the space, like the projections and audience interactions, even when in the rehearsal studio they are often not there. Some of the collaborators, like incredibly creative composer Ehud Freedman, Photographer Mira Loew and Animator David Altweger, I had had conversations with about working together in the past and this felt like the right project.

The fantastic dramaturge Adam Peck came as a recommendation from another company. I didn't previously know a lot of Creative techs so expanded my network through a combination of word of mouth, social media, attending events etc.

Simon Haenngi from Visual Pilots is the one that really brought the tech and functionality together, a hard worker and great Digital Project Manager. My producer at the time, Jih Wen Yeh really brought it together by finding partners that would support this experimental work and go on this journey with us.
---
How

do you think people will feel after seeing Upload/Unplug?

It has been great to see the work connect to people in different ways over the last 3 years. When we started exploring this topic in 2016 data was not something that was discussed or considered. Black Mirror was only just appearing on everyone's radar (after Netflix picked it up in 2015), the Cambridge Analytica scandal and GDPR had not yet happened. So at first we got a lot of 'So What?' type reactions! Now, audiences feel the conflict in the work as they are asking themselves the same questions.

The performance is a space for the audience to explore their own individual, aswell as larger societies' relationship with data, privacy and being human. People will each feel something different as their relationship to each of those three things is individual, I'm more interested in asking the questions, and the questions it brings up.
---
What

inspires you to work with dance and technology?

Part of it may come from growing up in a home where my father was a pastor and my mother was a chemical engineer; there was a collision of the spiritual and scientific, of the abstract and concrete, of the heart and mind. Much like this, human movement and digital seem to fit on opposite sides of a coin, and can either be explored in conflict or used to complement each other.

I am interested in the power and relevance of digital and dance, and how we accommodate the fear and hope we have around technology and its impacts on our future as humans.
---
Upload/Unplug takes place at Exeter Phoenix on Tue 5 Nov. Find out more about the performance and book tickets here >>
---
UPLOAD/UNPLUG TRAILER from Rebecca on Vimeo.