Proud to be backing Exeter Pride!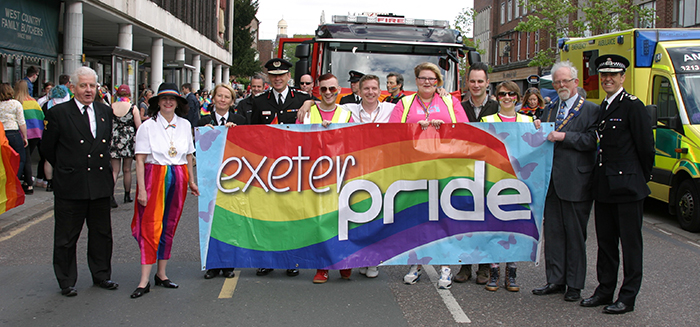 We are proud to be backing Exeter Pride in its bid to host UK Pride 2018.
Exeter Pride committee, the group which organises the biggest annual celebration of the lesbian, gay, bisexual and transgender (LGBT+) communities in the county of Devon, is one of six Pride organisations who hope to stage UK Pride 2018. The first UK Pride took place at Pride in Hull in July 2017, attracting visitors to the city from across the UK.
Licensed by the UK Pride Organisers Network (UKPON), UK Pride is the national equivalent of EuroPride and WorldPride.
Our very own Café Bar Manager, Adam Rank, is the Chair of Exeter Pride. He said: 'Exeter Pride hopes that winning UK Pride will help us to increase LGBT+ visibility not just on one day but all year. Next year, 2018, is our 10th anniversary year and the perfect time to consider how far we have come both as a movement and a city. We work closely with cultural partners and local businesses, and hope that becoming UK Pride will help us not only to celebrate diversity but also to honour the city that we are so proud of!'
Patrick Cunningham, director of Exeter Phoenix said, 'As a diverse, accessible, community organisation we feel a natural affinity with Pride and we share many key values. Pride makes a big contribution to the attractiveness of the city as a safe, vibrant, tolerant and progressive place to live, work and play. We have been key partners from the event's outset and fully support their plans to grow and develop in this, their 10th year.'
The winning Pride will be announced on Sunday, October 22, and will be live streamed on Facebook.