Two Short Nights Collaborations: Olivia Leonard On Canvey Island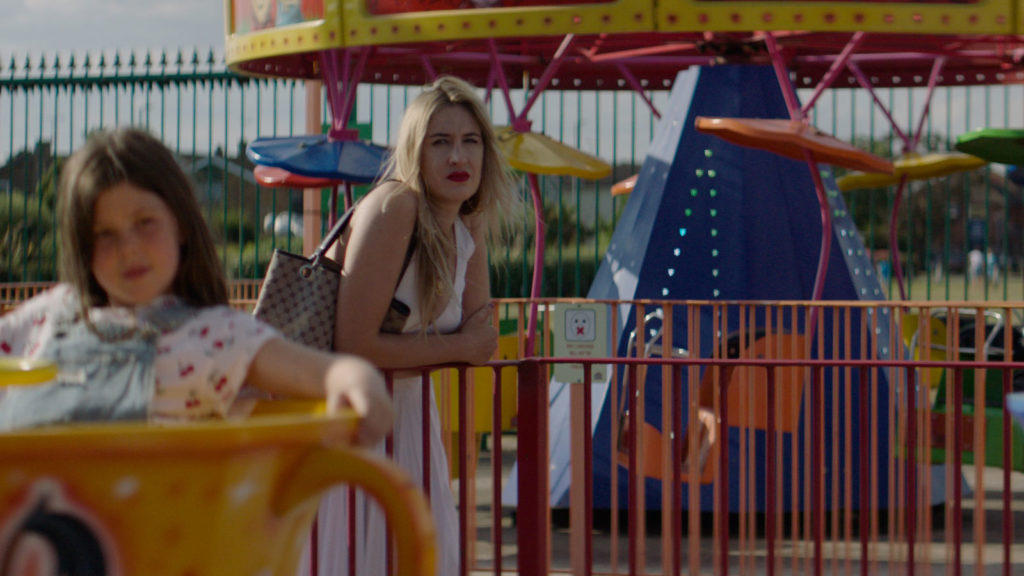 This year, Two Short Nights Film Festival has had the privilege of working with a number of creative collaborators.
Here, festival collaborator, Olivia Leonard, discovers themes of magical, motherhood and binary contrast in Isla Ure's mesmerising short film Canvey Island.
---
Canvey Island: Prescribed Happiness and Manufactured AMUSEMENTS
Reminiscent of Sean Baker's, 'The Florida Project,' Canvey Island documents a day in the life of Mother and daughter Ronnie and Summer, as they explode onto the concrete outlined promenade of the Essex island, by the same name. 
We first meet Ronnie, a blonde femme fatale; sat in her car, cigarette in hand, as she appears to make her way out of trouble and into the night.  Daylight brings an instant vibrancy and our introduction of the ethereal soundtrack by Moonlands. With the car parked up, the two freshen themselves up for the day ahead. Summer bursts into the frame, spitting the remnants of her toothpaste and gargled water off the side of the sea wall, flood defence. She listens to her mother tell stories of enticing excitement, as she conducts her roadside body wash, with a baby wipe. We discover instantly the two are living in poverty and from the confines of their car. As is often the case with reality, it isn't always as magical as we were led to believe as children. 
Although the film centres around a backdrop of dingy pubs; empty amusement parks, public loo rumpy-pumpy and mobile homes with kids smoking cigarettes, we are reminded that laughter and fun is never far away. Not least, the endearing depiction of this mother daughter relationship. Common with most fables of a lost childhood, their relationship isn't one of postcard normality but something often slightly more sinister. 
Director Isla Ure, divisively moves between role reversals in which the child comes to the parent's aid and the parent comes to the child's aid, when it's perhaps too late. This is subtly displayed when Ronnie, dressed as fellow femme fatale Marilyn Monroe, nervously collects herself outside the entrance of her old local boozer before ironically, hijacking the stage inside. Summer reminds her, "Fear is stupid." 
The comforting presence of Summer can be witnessed throughout: her attempts at making Ronnie laugh in scenarios where she finds herself being rejected by the world round her. Seemingly, unable to find her place within the world, she does however, have a place with Summer. Despite being humbly aware of this dynamic, Ronnie is seen to forget when an opportunity presents itself. 
The film's seaside backdrop provides an interesting contrast to the despairing nature of Ronnie's attempts to - quite literally - out run reality. As with environments designed to manufacture 'amusement,' the lives of the residence of these old sea seaside towns often present a more polarised view. Taught to focus on what is presented to us at face value, we often fail to see those around us struggling to stay afloat above the poverty line. 
The history of Canvey Island, is no different. Its past boasts bare knuckle fighting, smuggling and the North Sea flood of 1953. 
Films such as Paul Andrew Williams' 'London to Brighton,' and Sean Bakers 'The Florida Project,' also use backdrops of venues of prescribed happiness, allowing audiences to think about the real-life children, behind the veil of Disneyland; ice-cream, amusement arcades and shiny, bright lights. Long after the credits have rolled, the shadows cast by the children remain. For us: we can pack up the car, visit to escape and then return home. Whilst the children have no choice but to stay surrounded by the façade of magic, unable to join it and often fending for themselves, amongst the absence of parental figures. 
However, redemption for Ronnie can be found in the eyes of Summer. This occurs during modest, tender moments created by Ure and Director of Photography, Howard Mills. There lies a painful awareness that Summer has grasped the mature concept of what is to love unconditionally. 
With those who find themselves labelled "femme fatales," or "women-on-the-verge," there is often a misconception surrounding the way they conduct their business and their motives for doing so. Although fatalistic in approach, - and often the outcome - we forget the intent behind these beautiful women's actions, is often desperation, in their love of another and hatred of themselves.
The film's conclusion highlights, despite any feelings of empathy for Ronnie, Summer's wellbeing is better served in the care of another. 
---
Canvey Island, Dir. Isla Ure, can be viewed between 18 - 26 Feb as part of Two Short Nights #5: Local Talent screening. Find out more at twoshortnights.com
---
Published Wed 17 Feb 2021