Mothers Who Make Interview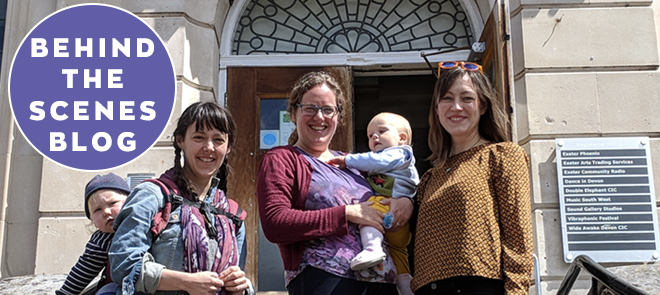 An Interview with Estelle Buckridge from Mothers Who Make
If you listen to The Guilty Feminist podcast, you may have heard of Mothers Who Make already. If not, here's a brief summary of the growing national initiative!
Mothers Who Make aims to support mothers who are artists & makers, in any discipline and at any stage of their personal or professional making. It was started by Matilda Leyser (Improbable Theatre) in London in 2014 and has rapidly spread across the country.
Every kind of maker is welcome- professional and/or passionate – writers, painters, performers, musicians, bakers, crafters, architects, historians along with every kind of mother – biological, adoptive, step, surrogate, foster, grand, great grand, to be.
We sat down with Estelle Buckridge from Mothers Who Make's Exeter Hub to learn more.
---
How did you get involved in Mothers Who Make?
I moved to Exeter in 2017 when 7 1/2 months pregnant. A friend from Bristol had told me about the MWM group who met at Bristol Old Vic and I signed up for updates about that and vowed to go. Then baby came along and the thought of driving all the way to Bristol with a newborn was too overwhelming. Fast forward 7 months and I met Katie Villa who was making the show WILD, all about birth.
I got talking to her and told her I was new to the city and struggling with trying to return to making after having my baby and she introduced me to Lizzy, who was just starting to look into starting up the Exeter Hub with Holly. The rest is history!
What sort of things do the group get up to at sessions?
Before I ever went to the sessions I imagined sort of networking with other creative mums but it is so much more than that. It is peer support: a place for each woman to be heard. We run sessions as a circle where every woman in the room gets a voice. We usually talk around a topic or provocation which could be about mothering, making or both. We are hoping to be able to run occasional making workshops too for mothers to do with their children.
What would you say to somebody thinking about joining the group?
Any kind of maker and any kind of mother is welcome, with or without your children. The diversity of experience in the group (of both mothering and making) is what makes it so extraordinary. This is a space where your dual roles of mother and maker are both honoured.
For many, this is a valuable slot of time within the month where they can take time for themselves to think about their roles as mother/maker and to spend it in the company of others.
Have there been any stand out moments for you on your Mothers Who Make journey?
Filming an interview for the promotional video for the MWM website last summer in the corridors of the Exeter Phoenix with my one year old tugging at the microphone cable.

BBC Spotlight having to re-record an interview with Lizzy during a session in the Theatre as they couldn't hear over the children playing enthusiastically with a squeaky toy I'd foolishly brought in (sorry Lizzy).

Meeting so many other wonderful creative women and being humbled by their stories.
---
You can hear more about Mothers Who Make on the Creativity episode of The Guilty Feminist (Episode 132) here >>
You can find out more about Mothers Who Make's Exeter Hub here >>