Max Cahn Voted as the Exeter Contemporary Open Audience Choice Award Winner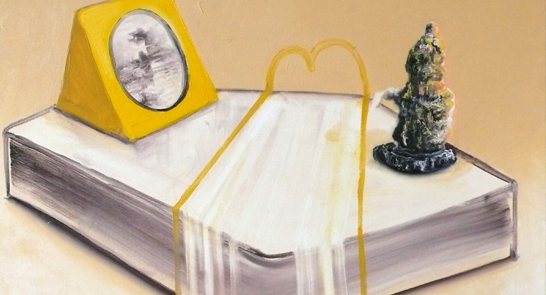 Exeter Phoenix is delighted to announce that the Exeter Contemporary Open 2013 Audience Choice Award has been won by Max Cahn.
The prestigious contemporary art exhibition, which opened on Friday 13th September, has seen hundreds of visitors vote for their favourite work. In the end Max Cahn's work captured the imagination of the public in what was a close count.
Detail from Souvenirs (Oil on Canvas, 2012), Max Cahn
Max Cahn's paintings tend to depict structures that resemble tables, beds and platforms. A suggestion of the everyday and familiar is stripped right back, at times to the barest point of recognition, easily misconstrued and falling into abstract form. The sense of reality, invited through the use of perspective, light, shadow and form, is resisted and forced apart by agitated, abstracted elements that remind us of the physicality of paint; thick wet on wet impastos that are alive with spontaneous dynamic brush strokes, paint that is sticky and viscous, unpredictable and in a state of constant exploration.
For the artist, these uncanny objects, recognisable yet alien, become platforms for psychological or emotional states that are not exactly autobiographical but are an extension of something personal; offering a dual dimensional experience, lying somewhere between object and hallucinated vision.
Cahn will receive a £200 prize that will be presented by Ali Morrish from Exeter Natural Health Centre who have sponsored this year's Audience Choice Award.
Earlier in the exhibition Rachel Busby was selected by judges as the Overall Award Winner with artists Julie Price and Oliver Tirre receiving recognition with Additional Awards. The full exhibition showcasing all nine of the shortlisted artists can be seen in the Phoenix Gallery until Saturday the 2nd November and entry is free.
For more information about the other artists in the exhibition, visit the Exeter Contemporary Open page here >>
The Audience Choice Award is kindly sponsored by: