Opportunities to join our team of volunteers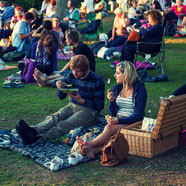 We are currently looking for people to help with a variety of music, performance and film events programmed by Exeter Phoenix. We're currently looking for volunteers for Big Screen In The Park and Miracle Theatre's Wild West Week.
If you are an energetic communicator with excellent  customer service skills and excited about what we do please contact Anna-Ruth here >>
VOLUNTEER FOR BIG SCREEN IN THE PARK
12 AUG – 16 AUG
This year, Big Screen In The Park celebrates it's fifteenth birthday. The formula of fresh air, bums on rugs and a great selection of films on our mighty pop up 10m screen all contribute to make Big Screen In The Park a cinematic adventure.
The event has a huge profile as well as a large audience to look after. To help make this event a success we need a strong team of volunteers to be part of the event management crew.
Wed 12 Aug Toy Story >>
Thu 13 Aug Amelie >>
14th The Shining >>
15th Interstellar >>
16th Ghostbusters >>
As well as being able to watch these fantastic films on our 10m screen, volunteers will get a taste of large scale event management. This is a great opportunity to see the behind-the-scenes workings of one of the city's favourite events.
Find out more about Big Screen In The Park here >> 
To register your interest in volunteering, or find out more, email Anna-Ruth here >>
VOLUNTEER FOR MIRACLE THEATRE'S AWARD WINNING OUTDOOR THEATRE
14 JUL – 18 JUL
This summer, Miracle Theatre are bringing their new show The Magnificent Three to Rougemont Gardens for a week-long, Wild West themed, open air extravaganza in collaboration with Exeter Phoenix.
We're looking for a team of dedicated and enthusiastic volunteers to help us make sure everything runs smoothly. Available roles will include everything from stewarding, providing visitor information and helping out with associated events and workshops during the week. This is a great opportunity to see the behind-the-scenes workings of large scale event management, meet like-minded people and network and assist an established touring theatre company.
What's more, all volunteers can take advantage of some great perks:
The chance to attend a free volunteers workshop, courtesy of Miracle Theatre. At this optional workshop, you'll be able to learn songwriting skills from the professionals themselves.
Friends and family of volunteers will be able to purchase tickets for any of the week's performances at a special discount price.
Find out more about the The Magnificent Three, and our Wild West Week here >> 
To register your interest in volunteering, or find out more, email Anna-Ruth here >>