©LOANED: Crew Required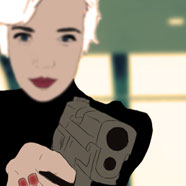 ©LOANED: Exeter Phoenix Devon Short Film Commission Shooting Dates Set.
Crew needed.
A desperate student takes an unconventional deal to fund her education – with dangerous consequences for her future self.
©loaned is a sci-fi fable written by Paul Parncutt and commissioned by Exeter Phoenix through the Devon Short Film Commission 2015 bursary scheme. The film will premiere at Two Short Nights Film Festival 2015 (26-27 November). ©loaned tells the story of Chloé – an aspiring drama student desperate to avoid a lifetime of paying back debt. Instead she opts for sponsorship from the covert ©hromos Corporation – a bio-tech firm with links to MI5.
The terms of their deal are simple; ©hromos bankroll Chloé's education and kickstart her career; Chloé donates to ©hromos her genetic material and memories – both of which are used to create a series of clones to work off Chloé's debt. The consequences of this deal are brought painfully home to Chloé when – some thirty years later – one of her clones goes rogue and seeks her out, looking for revenge.
Filming for this short will run for two days from 21st-22nd July. Paul currently has positions on the crew for the following roles:
PRODUCTION DESIGNER
SOUND RECORDIST
LIGHTING OPERATOR
HAIR & MAKE UP
Due to budgetary constrictions all roles are unpaid – however transport costs and catering can be covered. All crew will receive a copy of the finished film.
If you are interested in applying or want to find out more you can email Paul here >> 
Find out more about film here >>
For more information about Two Short Nights film festival and the other Devon Short Film and Devon Documentary Film Commissions, see twoshortnights.co.uk or our news story here >>