Jason Barker Interview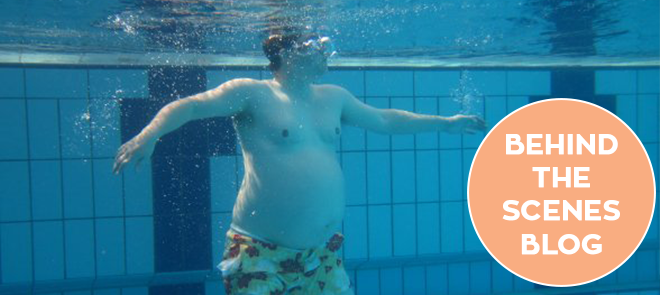 An Interview with Jason Barker: Director of 'A Deal With The Universe'
Ahead of our special screening of A Deal With The Universe – an intimate autobiographical documentary all about pregnancy, gender identity and new found parenthood – we had the chance to speak with Jason Barker, director of the film.
---
Why did you decide to document your pregnancy?
Actually I didn't. When I first started documenting my partner and I trying to have a baby, I was documenting an IVF cycle using my eggs, fertilised and put into her uterus. I didn't plan on being the pregnant one. I wanted to document the IVF process though because I thought a trans man coming off testosterone for any reason wasn't something I'd seen represented and, at the time, I thought it might make an interesting short film.
Was this your first foray into filmmaking?
No. My previous films have all been made in a similar way though, where I've documented a lot of things going on in mine and my friends lives and then cut them into a film afterwards. The first film I made was in 1997 and was about non-binary identities, although we didn't have that language at the time.
Will you continue to make films?
Yes, I have a commission to make a film on a similar subject to A Deal with the Universe. It's going to be a road movie, a trip around the UK meeting pregnant men. I've also been writing more and have recently co-written a radio play for BBC Radio 4 called Chopsticks and I'm working on some film scripts at present.
Who did you think would watch the film when documenting the process?
When I began filming, the Thomas Beattie story hadn't become an international sensation so I had no idea if anyone would be interested or not. As a former programmer of BFI Flare I know there is an appetite in the LGBT community for seeing our lives on screen. The queer films that inspired me were Tarnation and also a film called Orchids, My Intersex Adventure. Both very personal, autobiographical films.
What has the response been like?
I am glad people have found the film funny! It was supposed to be a funny film despite it's themes of cancer, death and infertility! Audiences have been really lovely and supportive of the film. I think people appreciate the rawness of it. It looks very rough, filmed on a domestic camcorder, but there's an intimacy and honesty that people can get into.
What do you want the audience to take away from A Deal with the Universe?
I can imagine if I was a partner, family member or friend of a person transitioning, I might think their life would be very bleak if I believed what I read or saw on the telly. I'd like people to take from the film that trans people can be loved, be in loving long-term relationships and that there is life after transition! These things seem so basic but I don't know that we see enough of trans people's lives outside of before and after photos and surgical wards.
Did the making of the film influence your experience of pregnancy?
Well, as you'll see in the film there were times I filmed and times that I didn't. I sometimes felt that the camera was hexing us and would stop filming altogether. I think being the filmmaker and the subject meant that I had the power to just stop filming when it didn't feel right. I could imagine if someone else was making this film about me, they'd have wanted certain 'money shots'.
Have you been in contact with other transgender parents since making the film?
After the film's premier I was contacted by someone who was pregnant with her trans partner's baby and she said the film had inspired them to tell members of her family who hadn't always been supportive. I'm in contact online with lots of trans masculine people who are/have been or want to be pregnant and they've been very supportive of the film. The general feeling is that the more we get our stories out there, the less stigma there will be about this.
---
A Deal With The Universe will be screened at Exeter Phoenix on Tue 12 February and will feature a post-screening Q&A with director Jason Barker. Find out more about the screening and book tickets here >>