INDEPENDENT VENUE WEEK
Published January 11, 2023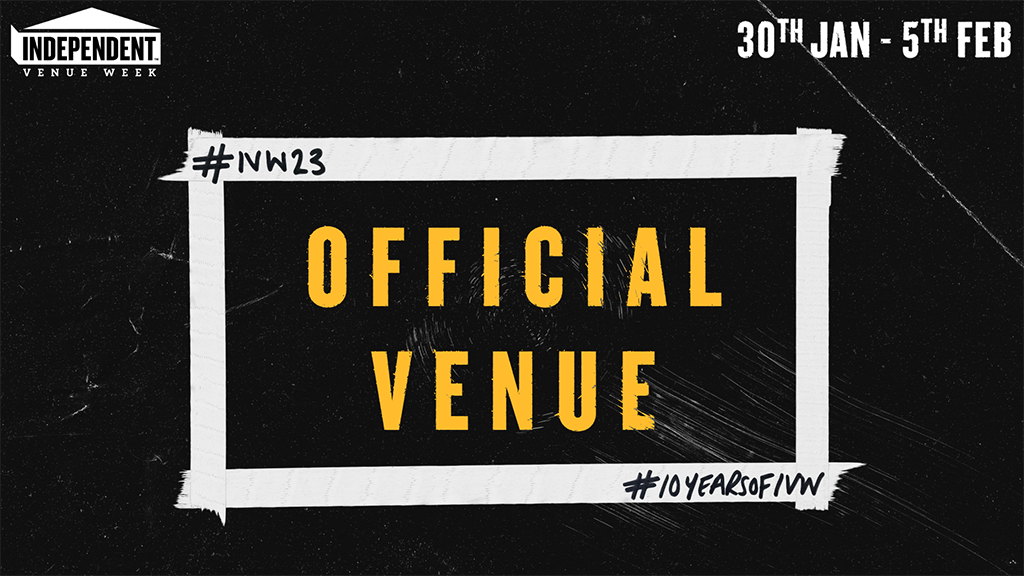 Independent Venue Week is 10 years old! And for most of those 10 years, we have been an Official Venue.
Independent venues across the UK are getting involved 30th Jan - 5th Feb this year, and we've lined up a range of gigs to celebrate.  
Independent Venue Week is a nationally celebrated week showcasing local music and arts venues and championing independent venues as the site for communities to come together and enjoy music. Independent music venues not only allow you to see your favourite bands in your local area, but they also support emerging talent, acting as a hub for the industry. In addition to providing spaces for emerging artists to perform (such as on our Bright Young Things and New Band Showcase nights!), we're also helping the next generation of technicians through our Creative Venue Technician Apprenticeship, work experience and volunteering opportunities.  
All of this couldn't happen without the continuous support of our community of gig-goers, so thank you for choosing us as your music venue and for always being the best crowd! 
For IVW 2023 we have a range of genres for you to explore, from rock to pop to ska, with regionally and nationally acclaimed artists playing. Check it out!
SOLD OUT
MON 30 JAN | 7.30pm
Kula Shaker, the last great heretics of British rock. Named after a 9th century South Indian King, the band's esoteric mix of psychedelic riffs, mantras and rock and roll mysticism laughed in the face of Britpop orthodoxy in the 90's.
LIMITED TICKETS AVAILABLE
WED 01 FEB | 7.30pm
Kris Barras Band are set for an incredible 2023; they've just finished a sold-out UK tour with Kentucky's favourite sons Black Stone Cherry, culminating with a show at the world-famous Royal Albert Hall.
+ DROP IN THE OCEAN
FRI 03 FEB | 7.30pm
Famed for their electric festival appearances, both in the UK and across Europe, Cut Capers are turning their attention to venue crowds in need of an injection of Glastonbury Festival-style energy and atmosphere. Following on from a string of gloriously sweaty, sellout shows on their 2021 Autumn Tour, they are getting set to once again break the ticketmaster website through sheer demand!
+ THE REGGASKAS AND GLYNN WILCOX (THE SIMMERTONES)
SAT 04 FEB | 7.30pm
The Embezzlers are a 6 piece, 100% Live, ska band based in Exeter, Devon. Playing the best in ska and 2tone from Desmond Dekker, Toots and Jimmy Cliff to The Specials, The Selecter, Madness and The Beat, and there's even a tiny little bit of The Clash thrown in for good measure!