Have a very 'Mary' Christmas with Quirk Theatre!
Published September 22, 2022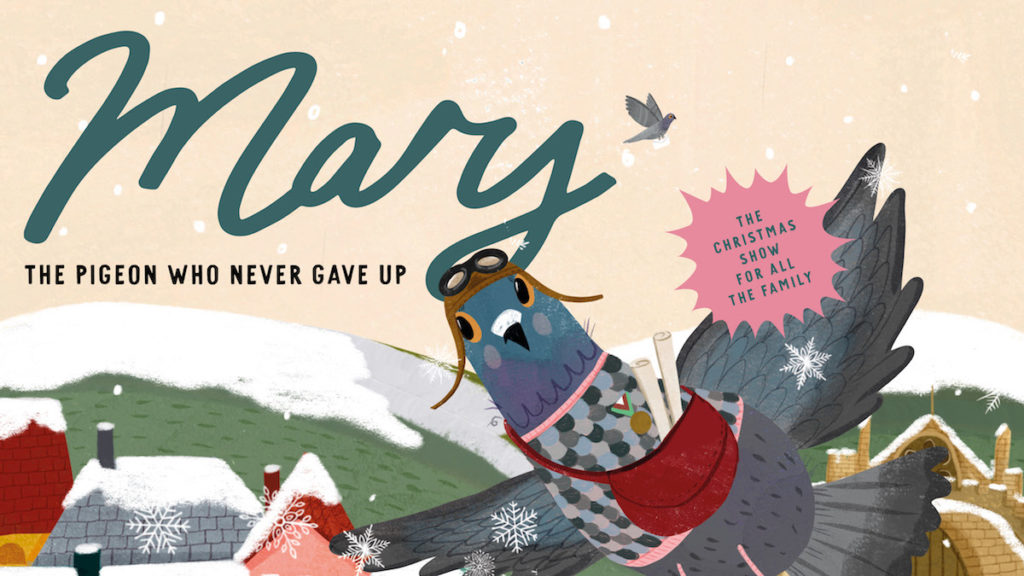 This December, South West based Quirk Theatre brings to life the astonishing true local story of Mary The Pigeon Who Never Gave Up, in partnership with Exeter Phoenix and The Plough Arts Centre, Torrington. A magical alternative to panto and a festive treat for the whole family!
For two decades, Quirk Theatre's beloved and memorable shows have given children their first experience of live theatre. Exeter Phoenix are delighted to welcome them back to produce what will be their 19th unforgettable, hilarious and heartwarming Christmas show with the venue - and this one is set to be their best yet!
Did you know that pigeons are actually… superheroes?
Set in Exeter during WW2, Mary The Pigeon Who Never Gave Up, follows the thrilling true story of one very special local pigeon, who flew top secret messages home from France during World War 2.
Mary's owner, Cecil (known as Charlie) Brewer, was a bootmaker and pigeon racer. Charlie lived at 6 West Street, Exeter, where he had his bootmaking workshop, photography darkroom and his pigeon loft in the attic. When war broke out, Charlie signed Mary up to serve in the National Pigeon Service. She was injured three times in duty but never gave up, earning her the Dickin Medal for Gallantry when the war ended.
Visually beautiful, heartfelt and uproariously funny, join Mary, the madcap members of the National Pigeon Service, a lost flamingo and a Polish Eagle Owl from Squadron 307 as they all try to find their way home.
This year, Quirk are also publishing a brand new picture book of this special story illustrated by collage artist, Rosie Race, and the people of Exeter! All summer long, Quirk have been running painting and collage workshops for schools and community groups in Exeter, creating beautiful collage  illustrations for the book. In partnership with Exeter City of Literature, Exeter Library and BookBag Exeter the professionally produced community book will be published in time for World Book Day in March 2023.
Naomi Jackson, a teacher at Stoke Hill Primary, said: "The children were incredibly excited to be involved in work that will be printed and in which so many different groups of people have been involved.  They loved watching their pigeons take on individual personalities. Every child felt their success."
And the good news is that when you book for the show at Exeter Phoenix, you can get 10% discount on pre-orders for the book!
Pay it Forward - and give someone else a 'Mary Christmas' too!
Exeter Phoenix and Quirk have teamed up with Refugee Support Devon to run a Pay It Forward Scheme for the second year. So when you buy your tickets, you can add a little (or a lottle) to ensure another family gets the gift of live theatre this Christmas. Last year 11 refugee families were able to attend the show thanks to generous donations. Arif & Wesel brought their family to see Rhia & The Tree of Lights, saying: "Thank you for drawing a smile on our children's faces."