Gandy Street's Countdown To Christmas!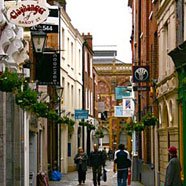 As the race to Christmas picks up pace and sparkly trees and glitter start to appear in Exeter, Gandy Street will be buzzing with music and entertainers in their own seasonal festival: Countdown To Christmas.
From 5.30pm on Thu 26 Nov, Gandy Street's independent traders will be holding an extraordinary pre-Christmas celebration shopping night with more than 20 businesses joining in the festivities. As well as discounts, promotions and offers galore, visitors to the street will be treated to goody bags, mince pies, mulled wine and all manner of samples and goodies to try.
Exeter Phoenix will be down on Gandy Street offering tasters of hot mulled cider, or call into our Café Bar to warm up, where you will find an array of of nibbles and great drinks offers.
The evening, which for some of the retailers will stretch on into the weekend, has been masterminded by Philippa Rutherford of Mantis.
'Gandy Street is well-known for its unusual and independent boutiques and eating places and we wanted to get together to provide something really special for our customers to lighten the load and help ring in the Christmas cheer', she said.
'We've been overwhelmed by the number of businesses getting involved it's going to be a brilliant night with a fabulous atmosphere, open shops, mulled wine, free samples, street theatre and very, very reasonable Christmas shopping – I challenge anyone not to feel Christmassy!', she added.
Countdown to Christmas begins in Gandy Street at 5.30pm on Thu 26 Nov.