Full house for Exeter Skate & BMX Night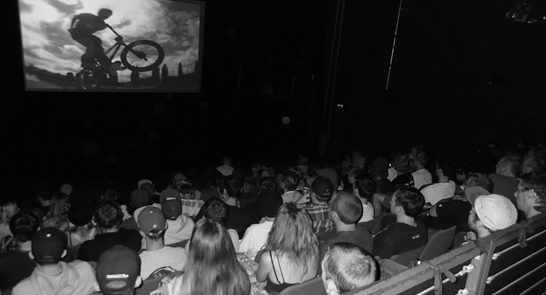 Exeter Phoenix saw a full house for the launch of DUGTOWN, a retrospective on the Exeter Skate and BMX scene over the last 30 years.
Skaters, BMX-ers and film fans flocked to view photos and new locally produced films reflecting on the rich skate park culture in the city. Tim Ruck, organizer and owner of The Boarding House said, "Last night was great. It was brilliant to see the auditorium full! Thanks to Death, and Paul Foster who's work on skateparks, comps and videos have been a massive part of how great the scene in Exeter has been through the years."
The DUGTOWN exhibition is up for a month ON THE CORRIDOR LEADING UP TO THE MEIDA CENTRE at Exeter Phoenix, and one of the new films can be seen in the Imaginary Lounge: Monday to Friday from 10am – 5pm.