Our Café Bar Terrace Is Open!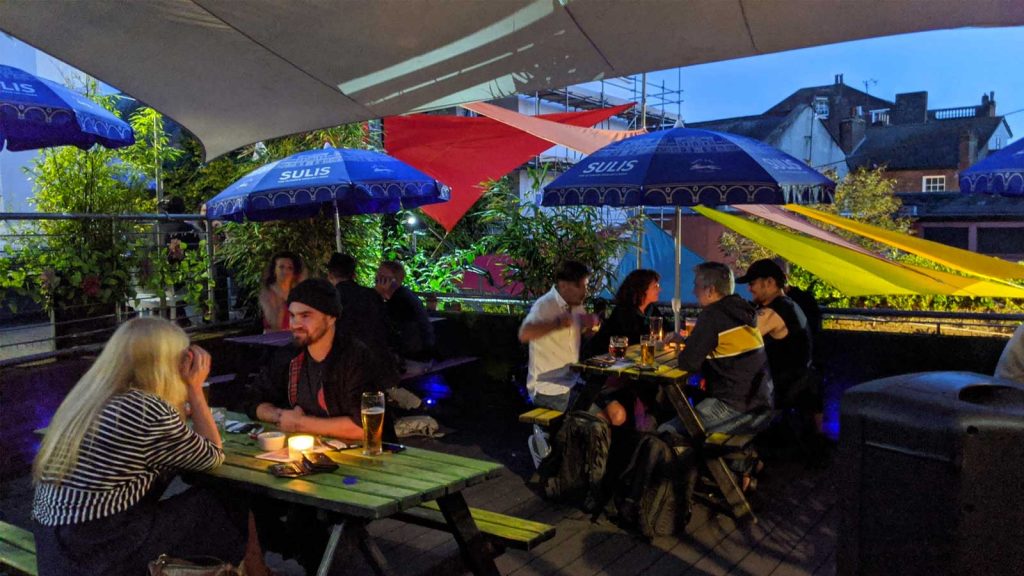 Lockdown Update: Wed 3 Nov
With the recent announcement of a second lockdown, we are having to postpone our activity and will close the building from Thu 5 Nov.
We loved welcoming you back for the socially-distanced events we were able to host, and we want to thank each and every one of you who visited us since our reopening for being so respectful of the rules that we had in place. We are certainly going to miss you over the next four weeks, but look forward to welcoming you back once more.
Read more about what this lockdown means for you as a ticket holder and what you can do to support Exeter Phoenix here >>
---
Our Café Bar terrace is now open for food, coffees and drinks! A limited number of tables are also available inside our Café Bar.

Monday: Closed
Tuesday – Saturdays: 10am – 9.30pm
Sunday: 12pm – 5pm | Drinks (no food)
Opening hours are subject to change
We can't wait to welcome you back – we have missed you! Before you join us, we want to reassure you that this is a safe space for customers and staff during this time. We'd like to share the new house rules with you so you can familiarise yourself before joining us. These will be clearly communicated on site too.
Menu
Sandwiches, toasties, mix-and-match small plates… View our daytime menu here >>
About Your Visit
Please enter the Café Bar via the terrace steps. These are to the right hand side of the main entrance. If you need step-free access to the building, please let one of the team know or call 01392 667062 who will be able to help you.
You must wear a face covering whilst entering/walking about inside the venue. You may remove your face covering to eat and drink only whilst in a designated seating area. Please be mindful that some people are unable/exempt from wearing a face covering, and the reasons for this may not be immediately apparent. If you are exempt from wearing a face covering, do feel free to let our stewards know this when you arrive if it would make you feel more at ease during your visit.

Please give way to customers descending and maintain social distancing whilst waiting for a member of the team to seat you.
Please use the hand sanitiser provided before entering the terrace. There will be additional hand sanitising stations at key locations around the terrace.
On arrival, a member of the team will seat you at your table and take your name and phone number in accordance with NHS Test & Trace measures. This information will be deleted after 21 days.
We are not currently accepting groups of more than 6 people.
We will be operating waiter service, with all orders and payments taking place at table.
Expect a stripped back look – we have removed everything that is not essential from your tables (such as condiments and flowers).
All furniture, menus, cruet, condiments etc are being fully sanitised between customers
Our cleaning procedures on opening, closing and during service will be increased, with regular toilet checks.
We will continue to use real glass, real crockery, and real cutlery as standard, all of which will be sterilised after use.
Please be considerate to other customers when smoking in the designated smoking area. The terrace is currently a no-vaping zone. This is being kept under review.
Bookings
We will be accepting bookings, for up to 50% of our tables at any given time, leaving the rest for ad hoc customers. If you wish to book at table please call 01392 667062. The Café Bar currently has a reduced staff team, and while we may not be available to answer the phone during peak service, please leave a message and we get back to you ASAP.