Exeter Bloom: Community Poem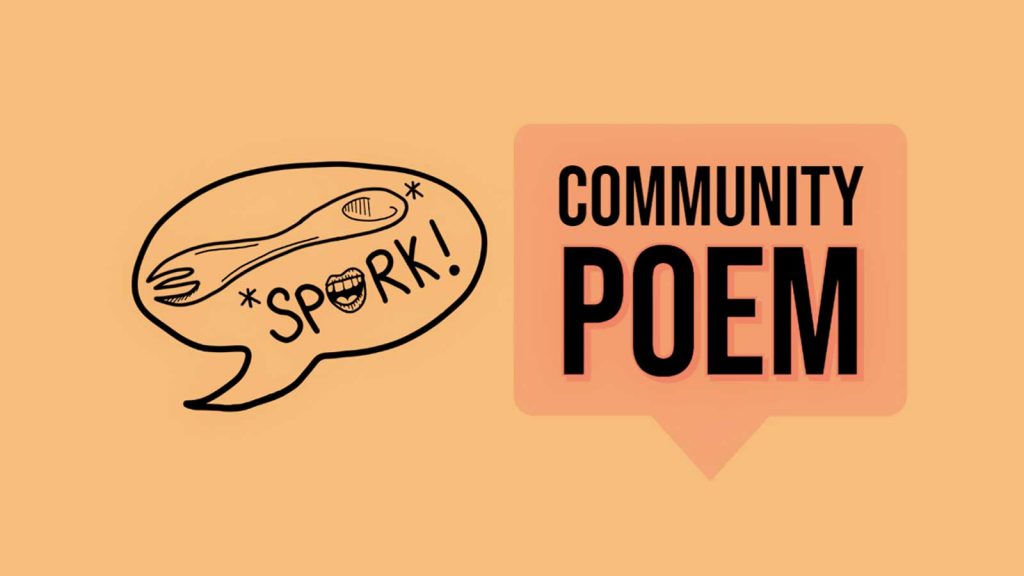 As part of Mental Health Awareness Week, we ran Exeter Bloom 2020 – an online festival of mental health awareness during the coronavirus lockdown.
We partnered with the wondrous spoken-word team over at Spork! to create a community poem.
We asked people to respond to the following three questions:
I miss…
I never expected to miss…
I don't miss…
and Spork's Chris White crafted a poem from the responses. Listen to Chris read the poem in the video here, or scroll down to read the poem yourself.
Exeter Bloom Community Poem
I never expected to miss birds being afraid to sing
I never expected to miss rain meeting my skin
I never expected to miss train journeys
I never expected to miss traveling to gigs
I miss gathering around tables to eat with my family
I miss acupuncture
I miss my friends
I miss saying 'ah fuck it' then buying another drink
I miss my mum
I miss my brother
I miss hugs
I miss the smalltalk with the guys at the falafel shop
I miss how every day I would ask for no garlic sauce and every day he would hand it to me and say 'falafel! Extra garlic sauce!'
I miss hugs
I miss 'one more?'
I miss 'd'ya have a cig?'
I miss chips
I miss hugs
I miss sharing space
I miss parties
I miss my pupils voices
I miss handshakes and hellos
I miss hugs
I miss the way my best friend smells and feels when we hug
Squishy and sweet, thirty years of friendship between our folds and creases
I miss my older friends believing they would live forever
I miss not feeling afraid
I miss knowing what day it is
I miss sitting in a cafe at a bar talking to strangers on a Friday night
I miss browsing in bookshops
I do not miss crowds and traffic jams
I do not miss rushing around
I don't miss the sense of urgency
I don't miss putting on a face to talk to strangers every day
I don't miss the A30
I don't miss bus journeys
I don't miss the rattle of every day traffic
I don't miss not having time to think
I don't miss haircuts
I don't miss my walk to work
I don't miss causing myself pain in a sweat scented gym
I don't miss pretending that I'm fine
I don't miss worrying about that rattle in my car
I do not miss the rattle
I miss hugs
I miss hugs
I miss hugs.