Witch
Events Temporarily Postponed
Category
Book Now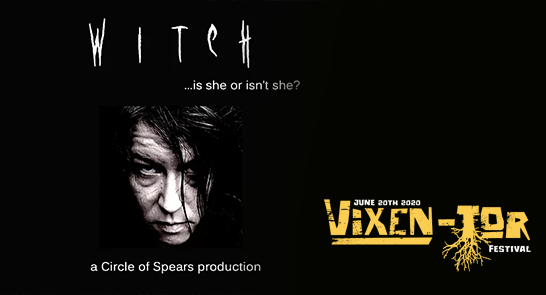 Witch
EVENTS TEMPORARILY POSTPONED
In response to the developing coronavirus situation in the UK, Exeter Phoenix is currently closed to the public. This is a temporary measure and we reviewing this on a month-by-month basis. The vast majority of events will be rescheduled for later dates.
Please note that the team are working through rescheduling a very high volume of events, but please rest assured we will be in touch with all ticket holders in due course. Please bear with us during this time.
Unprecedented closures like this with no confirmed government support will be hugely damaging for charities like Exeter Phoenix and many other sectors. If you are in a position to consider making a donation HERE, we would be extremely grateful.
---
*Subject to a £1.50 ticketing system charge. We don't charge this to make a profit. Find out more >>
VIXEN-TOR FESTIVAL
Witch | A Circle of Spears Production
---
1580s England – Thomas Latimer has accused his destitute neighbour Margery Scrope of witchcraft.
Based on original witch trial transcripts and wider research, the play Witch examines the perils of being a woman alone in the early modern era and looks at how social change and religious upheaval affected every level of society. The case is examined purely from a social history perspective to highlight how easily an accusation of witchcraft could arise against someone who was "other" – particularly a woman in a patriarchal society.
Is Margery guilty – and if so, of what? Whatever you believe, a woman's life is on the line…
---
VIXEN-TOR FESTIVAL
With talks, theatre, music, workshops and film, Vixen Tor is a celebration of the fierce women of folklore. See all the events that are part of Vixen-Tor here >>
---
TICKETS
Explore more of Vixen-Tor Festival for less with a day ticket.
Book your day pass (£60* Standard | £50* Concessions) here >>
Follow the booking link at the top of this page to book this individual event.
---
VENUE: EXETER PHOENIX, STUDIO 74