Wishbone Ash
'+ The Groundhogs
Category
Price
£22* Standing | £25* Balcony
Book Now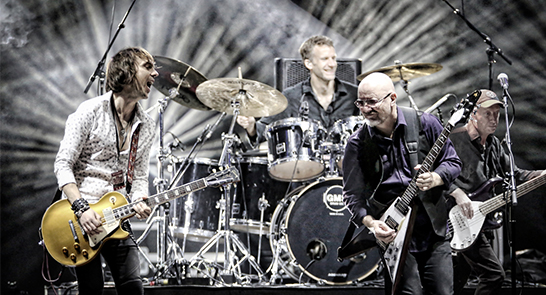 Wishbone Ash
*Subject to a £1.50 ticketing system charge. We don't charge this to make a profit. Find out more >>
WISHBONE ASH
50th ANNIVERSARY TOUR
---
+ Special Guests THE GROUNDHOGS
---
Wishbone Ash
It's a remarkable milestone few bands have achieved…
50 years of continual touring and recording…always at the highest level. As Wishbone Ash take their place amongst an exceptionally rare elite, they'll be celebrating the occasion with a specially extended show with video clips of the band through the years, taking the audience through their illustrious history.
Such is the band's huge popularity, they continue to tour the world performing classics such as 'Blowing Free', 'The King will Come' and 'Throw Down the Sword' as well as great new material with their hard hitting twin lead guitar driven rock, winning a whole new army of fans along the way.
With main man Andy Powell still at the helm, they are undoubtedly one of the most celebrated bands in the history of rock.
Their classic album 'Argus' was Melody Maker Album of the Year and their accolades and critical acclaim has continued to grow.
Andy Powell has been a constant 'Best Guitarist' contender throughout his career as well as being a highly sought after session musician. He featured as part of Miles Copeland's 'Night of the Guitars' tour alongside fellow greats Steve Howe, Leslie West, Robby Kreiger, Alvin Lee, Randy California and Jan Akkerman.
Wishbone Ash continue to record and have over 30 albums to their credit but they are best known for their dynamic stage performances.
Join in the celebrations and become part of rock history as they mark this incredible journey back on home soil in the UK, where it all began. DO NOT MISS !!!!
---
The Groundhogs
The Groundhogs are now a hard hitting four piece playing the early 'hogs' years. Now led by original drummer Ken Pustelnick, very much the driving force of the new line up since Tony McPhee's retirement. Their show features all the classics from the band's long and very successful career. Ken's unorthodox drumming style was always a feature of the live show, which includes all the traditional elements, high energy arrangements and free flowing psychedelic tinged improvisations, anchored by the underlying blues roots that were ever present since the band's earliest days.
Expect all the classic tracks from the legendary albums Split , Thank Christ for the Bomb amongst a host of others and there is sure to be a 21st Century version of Cherry Red.
---
Venue: Exeter Phoenix, Auditorium