This event has passed.
Wifi Wars
Category
Book Now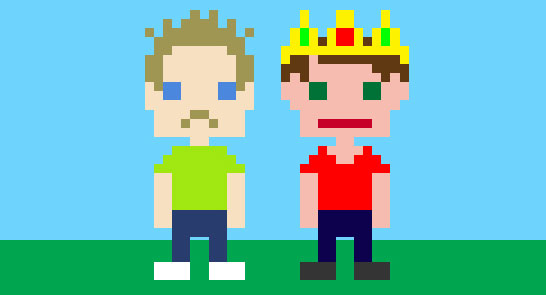 Wifi Wars
*Please note that there is a £1.50 fee per transaction
Wifi Wars
Love retro gaming? From two of the men behind celebrity gaming sensation Go 8-Bit  comes Wi-Fi Wars, a comedy game show where you play along! Using wizard magic beamed directly to audience smartphones and tablets compete in team gaming to win great prizes.
Hosted by comedian and regular videogames commentator Steve McNeil (Challenge TV's Videogame Nation, Ginx TV's Console Yourself, Minecraft: Digging Deeper and star of Go 8-Bit, hosted by Dara O'Briain, starting on Dave this autumn), the show was first performed as part of the Royal Institution's 2015 Summer Programme after Steve and Rob Sedgebeer's appearance on their 2014 BBC Christmas Lectures.
You may have spotted them in Time Out (Critic's Choice), Metro (Top Ten London Geek Nights Out), The Guardian (Not To Be Missed) and on BBC Radio 4 Extra. They also had their own stage at Eurogamer's EGX, welcoming over 80,000 people to the event over its four day run at Earls' Court.
The technology used in the show was originally created by the boys for the live incarnation of Go 8-Bit, and will feature in the new TV adaptation of the show.
Sadly, at the moment, Windows phones are not compatible with WiFi Wars. We're attempting to resolve this. All Android and Apple/iOS devices should work fine with the show.
'Some of the best fun we've had in aeons'
THE LONDONIST 
'Not to be missed'
THE GUARDIAN
Venue: Exeter Phoenix