This event has passed.
Where Heaven Meets Hell + Q&A
Category
Book Now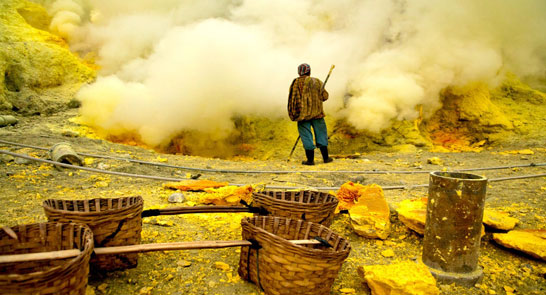 Where Heaven Meets Hell + Q&A
*Please note that there is a £1.50 fee per transaction
Where Heaven Meets Hell + Q&A
An intimate portrait chronicling sulphur miners working at Kawah Ijen, an active volcano in Indonesia as they haul loads of up to 200lbs of pure sulphur per day.
Where Heaven Meets Hell is screening at TOPOS Space alongside the exhibition art-articles by Berlin based artist Konstantin Bayer.
Presented in Partnership with the Museum of Contemporary Commodities.
Q&A Panel
Andrea Butcher is an Associate Lecturer in Anthropology at the University of Exeter's School for Philosophy, Sociology and Anthropology. Andrea became interested in anthropology of development after spending several years working and backpacking in Europe, the Middle East, Asia and Australia. Her current research examines assemblages of religion, climate and development in the Indian Himalaya.
Jeff Harrison has over 35 years of senior operations management experience in mining and mineral processing spanning three continents. He works for Wolf Minerals as the Operations Manager of its Drakelands tungsten mine near Plymouth.
Ben Williamson is Programme Director and Senior Lecturer in Applied Mineralogy at the Cambourne School of Mines. His research interests include the threats to local communities of volcanic activity and is an Expert Member of the International Volcanic Health Hazards Network.
Daniel Pranajaya is currently studying for an INTO Exeter Foundation in Humanities with the intention of progressing into Exeter University's BA History and International Relations. A student visiting from Indonesia, Daniel is fully aware of the impact of sulphur mining in East Java in the context of Indonesia's fast paced development.