Typhoon
Thu 01 Jan 1970 - Sun 27 Feb 2800
Category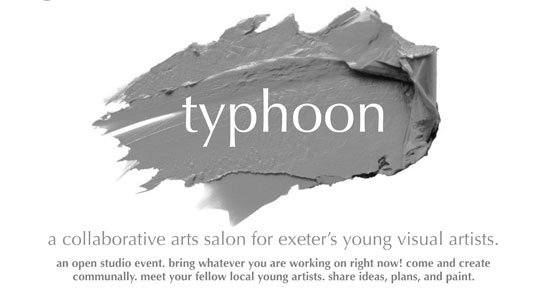 Typhoon
*Subject to a £1 ticketing system charge. We don't charge this to make a profit. Find out more >>
Typhoon
CALLING ALL OF EXETER'S YOUNG VISUAL ARTISTS!
Come along to Typhoon, the communal arts salon from The Young Pretenders.
Come and create all together at the glorious studios at Exeter Phoenix in central Exeter – bring whatever you are working on now! This is a chance to get out of your own kitchen/bedroom/office/cafe and share a space with your fellow local young artists. Come to swap ideas, collaborate, or just to chat while you paint. Creating can be solitary – let's change that for a day!
These dates are the second and third of three 2017/18 sessions, with the first happening in late 2017. Present on these open studio events will be our young Associate Artists Board, and the exhibiting artists who are bringing work to TYPify 2018, our dedicated youth arts festival. Come and get a sneak peek of what they are displaying!
Saturday 23rd June & Sunday 1st July, 11am – 5pm. Open to all visual artists who are aged 14 and up. No need to book, just click attending on our Facebook event and bring your most colourful paints… we can't wait to meet you and see what you're making!
Facebook event here>>
Venue: Exeter Phoenix, Top Studio