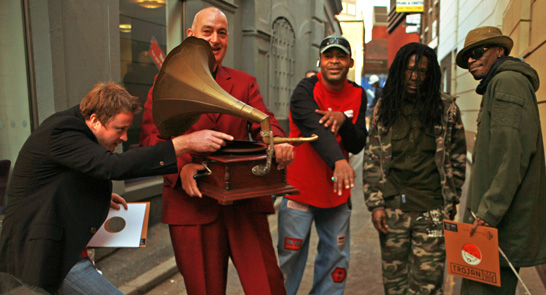 Trojan Sound System
*Please note that there is a £1.50 fee per transaction
Trojan Sound System
Featuring Daddy Ad, Superfour, Chucky Bantan and Jah Buck. Plus support from DJ Jef Showbiz and Devon based Highest Grade Sound System selectors.
Formed in 2004, London based Trojan Sound System are an institution in British Sound System culture. A legendary team of selectors and vocalists, they relentlessly tour the globe, representing the most seminal Reggae and Ska record label in history. For the past decade, Trojan Sound System have spread their message of love and unity through the power of Ska, Roots, Dub, Dancehall and UK Bass music, headlining club shows, captivating festival crowds and supporting legendary Jamaican acts such as; The Wailers, Luciano, Sly and Robby and the late great, Gregory Isaacs to name but a few. Trojan Sound System are the original crew that broke Reggae music and culture back into contemporary clubs and festivals.
Transcending age, race and political barriers, Trojan Sound System play music that satisfies the purest of vinyl collectors, while at the same time, introducing a new generation to the roots of Jamaican music and Bass Culture. Mixing styles and flavours from the past 40 years, the Trojan crew are legendary party starters, ignited by uplifting vocals from MC trio; Superfour, Chucky Bantan & Jah Buck.
Daddy Ad hails from the Roots and Reality Soundsystem and has worked with legends including; Eek-A-Mouse, Tappa Zukie and Horace Andy amongst many others and has always, pushed for new sounds and acts to break on though. His experience as a drummer and audiophile has led Ad in a direction to be responsible for the crews FXs, mixing and trademark sound.
The Sound System's vocalists have twenty years experience as members of the foundation South London sound systems; Taurus, Sir Coxsone and Saxon. They have been chosen as the absolute cream of London's Reggae entertainers. Legendary recording artists including; Lee 'Scratch' Perry, Dr Alimantado, Tippa Irie, Dillinger & Dennis Alcapone have all worked with the Trojan team.
VENUE: THE LEMONGROVE