This event has passed.
Thrift Shop #2
Category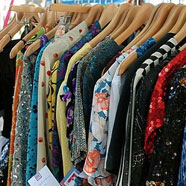 Thrift Shop #2
High quality second hand and vintage clothes fair to raise money for Mwenya Uganda, an NGO set up by an Exeter University student. The cafe bar will be host to hundreds of handpicked items; we've got gorgeous evening wear, work wear, designer labels, young fashion, branded sportswear and hundreds of accessories. Many pieces are unworn with tags.
We want to shake up the image of second-hand clothes; Thrift Shop is the happy middle ground between expensive vintage and rails of old tat in a charity shop!
After the success of our last Thrift Shop, we recommend you arrive early to grab the best bargains!
EVERYTHING WILL BE LESS THAN £5 as this is a one-day only sale.
If you have any clothes to donate to the cause, please text Rachel on 07568 551226 and we'll come right to your door and take them off your hands!
VENUE: EXETER PHOENIX CAFE BAR