The Wonders (Le Meraviglie) (15)
Category
Price
£3* or £10* including pizza
Book Now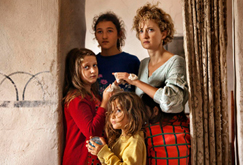 The Wonders (Le Meraviglie) (15)
*A note on transaction fees
A small £1.50 fee is added to each transaction. This covers the cost of getting your tickets booked, that's everything from the booking software to card charges. We don't charge this to make a profit.
The Wonders (Le Meraviglie) (15)
+ Introduction by Danielle Hipkins
Dir. Alice Rohrwacher
Italy, 110 mins, 2014
Organised by Valentina Todino for the Italian Cultural Association Exeter collaboration with Danielle Hipkins, Associate Professor of Italian Studies and Film, Department of Italian, University of Exeter. The film will be introduced by Danielle Hipkins.
The Wonders takes place in a rural setting on the borders of Umbria and Tuscany, on a commune created by the international remnants of an unspecified left-wing radical group, now a nuclear family of six and a female helper, Coco. At thirteen, Gelsomina (Alexandra Maria Lungu) is the oldest of four sisters, and the apple of her father, Wolfgang's eye.
Trained to help him with their struggling business of bee-keeping, and put 'in charge' of her siblings, the film charts the breakdown of the family's equilibrium as financial pressure increases and Gelsomina begins to rebel against her role. Two factors contribute to this breakdown: Gelsomina's secret decision to enter the family for a run by a local tv station and the arrival of Martin, a child from Germany on a re-deployment scheme after committing petty crime, whom Wolfgang takes on as a farm worker
'A sweetly elegiac coming-of-age film'
NEW YORK TIMES
Meal Deal
Enjoy a pizza before the film for just £10*, including your cinema ticket.
The pizza choices are:
Margherita (tomato and mozzarella, classic)
Vegetarian (Blue cheese, walnuts, spinach, on a tomato and mozzarella base)
Meaty (Mushrooms and sausages on a tomato and mozzarella base)
Vegan option (walnuts and spinach on a tomato base)
Please contact our box office if you would like to book a pizza alongside your ticket.
Venue: Studio 74, Exeter Phoenix