This event has passed.
The Summer Blowout
Category
Book Now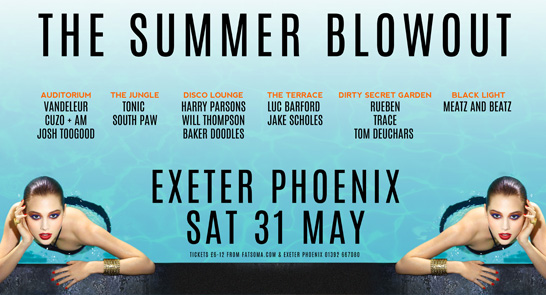 The Summer Blowout
From the team that brought you Eton Messy and XXXY, Blowout are back this summer for another massive end of term party.
This time Exeter's best DJ talent will be hosting 6 rooms of of phenomenal music ranging from house, disco, jungle, drum and bass, hip hop and and R&B.
Auditorium
The main stage! This has gone off in our past events! On the 31st we will be welcoming back the very talented Vandeleur (TAT, Banoffee Pies, Dirty Beats), Cuzo (Our House, Dirty Beats) and our extremely gifted saxophonist AM, all supported with our Funktion One sound system. We will also be welcoming Josh 2 Good (Our House) who has been setting the Cavern alight recently with his incredible sets at Our House. If you haven't been able to see these guys yet you've been missing out. Set to be epic!
Jungle Room
Blowout have decided this time to create our very own jungle room. Hosting this room are the extremely talented Thick as Thieves residents, Southpaw (TAT) and Tonic (TAT, Dirty Beats). Expect a couple of incredible bass heavy sets from these two.
Disco Lounge
Hosting this room, Harry Parsons (Hold It Down), Baker Doodles (Dirty Beats) and Will Thompson (Our House) will be bringing you the very best in all things disco. Expect disco balls and some epic shapes on the dance-floor.
Terrace
One of our favourite areas here at Blowout, the Terrace will be hosted by Luc Barford (Dope) and Jake Scholes (Dirty Beats) who will be bringing you the very best in Hip Hop and R&B. These two will be taking you back through the history of these genres and throwing in some classic too.
Dirty Secret Garden
A new edition to the Blowout experience, the Dirty Secret Garden is going to go off. We thought we'd make the most of summer and create a brand new stage to enjoy the weather. Hosting this new area are the up and coming talents of Tom Deuchars (B&B), Trace and Rueben that are already lined up to be next years Thick As Thieves and Beats and Bass Society residents. If you're looking for new talent, this is the place.
Black Light
Just to mix things up we are creating our very own 'Black Light' room. Think UV lights and plenty of great music. Hosting this room and making their debut at the Phoenix are the loveable Meatz and Beatz who came together this year and have already acquired a considerable following with their fun sets and great music taste. We're expecting a lot of energy and good vibes in this room!
Set to be one of the biggest summer parties in Exeter and a perfect way to celebrate the End of Exams! Get your tickets while you can.