This event has passed.
The Steampunk Yule Ball 2
Category
Book Now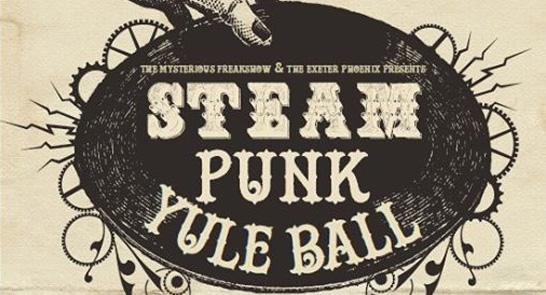 The Steampunk Yule Ball 2
*Please note that there is a £1.50 booking fee per transaction

The Mysterious Freakshow & Exeter Phoenix present
The Steampunk Yule Ball 2
The Steampunk Yule Ball is back for its second year with the crème de la crème of the UK and US Steampunk scene. An unusual evening of Music, Comedy, Performance Art, Cabaret, and Elegant Couture. Featuring: Professor Elemental, The Mysterious Freakshow, BB Blackdog, Birthrite, Lord Montague Jacques Fromage III, The Wattingers, Miss Von Trapp, Inna Sketchi Manna, Tea Duelling, Steampunk Market, DJ's and still more acts to be confirmed.
Watch the highlights of last year's Yule Ball here >>
Professor Elemental
Professor Elemental is a steampunk and chap hop musical artist. Hugely funny and intelligent … he will put the sparkle into the festivities.
The Mysterious Freakshow
The Mysterious Freakshow are female-fronted, South-West based Alt-Rock and Steampunk Band formed. Mixing their eclectic time travelling tastes with punk sensibilities.
BB Blackdog
What do you get if you cross two bass players with drums and a groove machine, two Germans dudes and an Englishman? BB Blackdog of course!
Montague Jacques Fromage's Steampunk FunkBizarre
Monty is THE international purveyor of Victorian Funk, Rap and assorted lyrical conundrums, American based and Steampunk Chronicles' "Person to Watch/2013" , he mixes Victorian subject matter with danceable funk backbeat.
Birthrite
Birthrite are from the Black Country, and do hard edged Steampunk. This is a fully electric band and this is a hard edged sound in the 21st Century with the exuberance and imagination of the 19th.

The Wattingers
Describing their sound as 'Slaughterhouse Steampunk Blues', The Wattingers lean towards the grimy underbelly of Western Steampunk. Their black sense of humour takes influences from Tobe Hooper's Texas Chainsaw Massacre, Sante Sangre, El Topo, original Night of the Hunter, Cannibal The Musical, and The Child Ballads.
Miss Von Trapp
Murderously Quirky Dark Cello Cabaret: Morbidly Vaudeville Folk Songs, Cabaret Numb…ers and Performance Poetry to revolt and entertain… Putting the "fun" in "funeral".
Inna Sketchi Manna – the outlandish cleaning ladies
The Cleaning Cartel, mobile sanitation operatives on a mission. Where are they from? Where are they going? What will they clean next? Interactive performance art with a difference!
And still more acts to be confirmed …