This event has passed.
The South
'+ Ellie Williams
Category
Book Now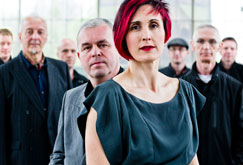 The South
*Please note that there is a £1.50 fee per transaction

The South
+ Support From Ellie Williams
After a successful couple of years touring the country and playing Festivals, The South are looking forward to 2016.
The combination of Beautiful South hits and album tracks as well as original songs from their debut album, Sweet Refrains has hit a pleasure nerve around the country.
Once in a while a band appears that strikes a chord with many. Their music becomes an integral part of a nation's psyche and the soundtrack to many people's lives. Ingrained in the hearts of many is one such band, The Beautiful South. Over 3 decades this band became a household name, selling over 15 million albums.
On disbanding in 2007, original members Dave Hemingway and Alison Wheeler went on to form The South and with mainstays Damon Butcher and Gaz Birtles (keyboards and brass since the very beginning of The Beautiful South) this talented 9 piece continue to celebrate the music of The Beautiful South and, indeed, The South.
Now with one highly acclaimed album Sweet Refrains under their belt, The South are ramping up a gear for what has been an amazing 2014. With a marathon 64 gigs this year, there's life in the old dogs yet!
Their rich tapestry of music is wooing audiences far and wide, as they continue to receive ovations from all corners of the UK. People keep coming back again and again on the very same tour, so these guys are obviously doing something right!
Want a brilliant night out? Want a moment of euphoria as old memories flood back and new ones are formed?
With both old and new tunes that stand the test of time, experience this amazing live band performing great songs from Sweet Refrains and classics that can never be forgotten: including Perfect 10, A Little Time, Rotterdam, Don't Marry Her, You Keep It All In, to name but a few.
You'll be surprised at how many songs you already know!
Isn't it time you headed South?
Venue: Exeter Phoenix