This event has passed.
The Neon Shadow
Category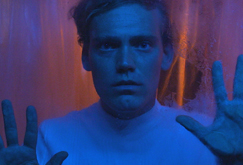 The Neon Shadow
---
FRONT ROOM PHOENIX
Our auditorium may be temporarily closed, but we're not going to let that get in the way of bringing arts and culture to Exeter. Welcome to Front Room Phoenix – our way of beaming online creative activity straight to your sofa! We have teamed up with Tom Jackson Greaves and Kneehigh Theatre to bring you a new short film, created in isolation.
---
Tom Jackson Greaves in association with Kneehigh Theatre
The Neon Shadow
Join Tom Jackson Greaves and Kneehigh Theatre for the online premiere of a new short film created in isolation. The film will premiere on YouTube on Fri 28 Aug at 8pm. Set a reminder here >>
The Neon Shadow is a love story with a bitter twist. A modern fairytale for grown-ups and brave youngsters. It plunges head first into the depths of isolation, technology and desire and is inspired by Hans Christian Andersen's rarely-told tale, The Shadow.
A man in isolation waits at his window for a sign of life in the outside world. When he sees someone looking back, his heart skips a beat and a secret love begins to blossom. Not brave enough to speak his truth, the man turns to technology to help him transform into everything he wishes he could be. But technology has other ideas…
With direction and choreography from Tom Jackson Greaves, original music by Dom Coyote, words and lyrics by Annamaria Murphy and animation by Venn Creative this short digital artwork will explode onto your screen with vivid colours, sounds and physicality this summer.
Alongside the film, The Creation Club (LGBTQIA+ Individuals from Cornwall) has been exploring the themes of love and isolation through digital movement and writing workshops with the films creative team.
The film has been supported by Kneehigh's Coastal Communities programme, FEAST, New Adventures and Pavilion Dance South West and Hall For Cornwall. It was filmed in July 2020 within Covid-19 guidelines and restrictions.
How To Watch
Join for the film's premiere here >>
Join the Facebook event here >>