The Martin Harley Band
Category
Other Information
Standing
Book Now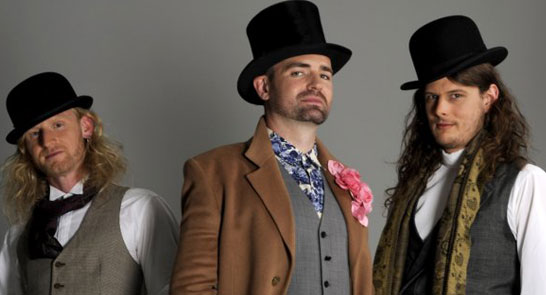 The Martin Harley Band
Martin Harley is a phenomenally talented guitarist, singer and songwriter he fronts the highly praised UK-based acoustic trio, The Martin Harley Band. He will be touring his new album MOJO FIX this coming March 2013. A life-long devotee of acoustic guitar music, especially the ageless blues/roots sounds, Martin has travelled the globe absorbing a plethora of diverse influences and honing his craft into the classic songwriting style he possesses today.
With four critically celebrated albums released in the UK and Europe and a new solo album recorded in Texas and releasing October 2012, features for Guitarist Magazine, the BBC, countless European festival features and world press, Martin has a strong and solid base of fans spanning the globe. His love of surfing and travel have taken him all over the world from Australia to stints playing with some of Africa's finest popular musicians. Martin is a deeply important and respected voice in the evolution of popular blues and folk oriented guitar and vocals and is now expanding on his international success with recent time spent in the US recording and setting up his American release and tour this autumn and his band's upcoming November '12 feature performance at the Live in the Vineyard music festival in Napa, California. Renowned for his prowess as a slide guitarist, he is almost unique in the UK in his playing lap slide. In other areas and styles, however, he has proved himself a master guitarist and a consistently astounding songwriter. Look for Martin's videos Winter Coat and Love In the Afternoon, and a live version of the forthcoming single Mojo Fix from the new album of the same name.
'Awesome'
JOHNNIE WALKER, BBC RADIO 2
'Their latest album is a mature and intelligent masterpiece of Americana roots music'
MAVERICK MAGAZINE
'Shining talents in the British acoustic scene'
GUITAR MAGAZINE
'Quite simply a great live act'
TIME OUT LONDON
'No doubt that he is a slide guitar master. He is the business'
ROOTS MAGAZINE

Support from Marc O'Reilly
My Friend Marx is Marc O'Reilly's debut album; it's already created a stir in his native Ireland. We think Marc is destined to ride the new wave of Irish international breakthrough artists in the acoustic genre. Marc has been touring his album, which was released in the UK in August 2012.
'A stunning set of tunes'
R2 MAGAZINE
'Sensational, Irish music has a new star'
ROOTS & FUSION
VENUE: EXETER PHOENIX