The Four Owls
VIBRAPHONIC FESTIVAL
Category
Other Information
Standing | 18+
Book Now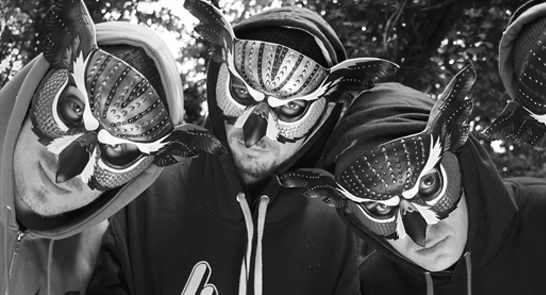 The Four Owls
*Please note that there is a £1.50  fee per transaction
Part of Vibraphonic Festival 2016
Celebrating all things diverse and progressive in music of black origin, Vibraphonic returns to Exeter this spring with a line up of jazz, hip hop, dubstep, soul, blues, drum n' bass and urban music. Look out for events across the city through March.
Onelion Presents
The Four Owls
After hibernating in their mysterious lair for over 3 years, the time has come for the owls to descend once again from their colony in the highest mountain peaks and unleash a wave of hip hop unlike anything you mere humans have heard before in the form of their new 2nd album Natural Order.
The formula is the same, but the potion is as mysterious as ever; Deformed Wing's beat making talons are sharper than ever, and the four MCs have soared to new lyrical and conceptual heights. Just when you think it can't get any better, the Owls have also recruited non other than the legendary DJ Premier to embark on this next outing too. This is history in the making.
VENUE: EXETER PHOENIX