This event has passed.
The Extinction Rebellion Lawyer
Agile Rabbit
Category
Book Now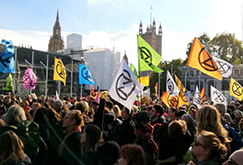 The Extinction Rebellion Lawyer
*Subject to a £1.50 ticketing system charge. We don't charge this to make a profit. Find out more >>
The Extinction Rebellion Lawyer
When police unglued Farhana Yamin from the forecourt of the Shell building—during recent climate protests—she became a figurehead of the Extinction Rebellion movement. The Climate Change lawyer appeared on front pages across the world and deftly handled interviews on programmes such as Newsnight.
For this Agile Rabbit talk, Farhana will argue that now is the time to rise up and rebel. Activism, she asserts, is key to affecting meaningful action that will combat Climate Change. There is plenty of time for audience questions and discussion.
Farhana's work against Climate Change goes further back that recent protests. She worked on the Earth Summit in Rio in 1992, the Paris Agreement between 200 nations, and represents small island nations affected by Climate Change in international legal cases.
There was hope that governments would follow scientific expertise when making long-term strategic policy.
Farhana argues that governments' resistance against real action makes activism necessary. Individual lifestyle adjustments make little difference, and governments must now lead—and protest will persuade them to.
Biography
Farhana Yamin is an internationally recognised environmental lawyer, climate change and development policy expert and on the board of Greenpeace. She has advised leaders and countries for over 25 years. In addition to founding Track 0, she is an Associate Fellow at Chatham House. She has taught climate change law for many years, including as a visiting Professor at University College London.
Between 1996 and 2002, she was a negotiator for the Alliance of Small Island States, working on the Kyoto Protocol and its market based mechanisms and was also Lead Author for three assessment reports for the Intergovernmental Panel on Climate Change from 1996-2008.
AGILE RABBIT
Agile Rabbit is a platform that provides special events for the South-West and beyond to focus on ideas, global affairs and the natural and scientific world. The events are set in contrasting venues across the South-West to provide quirky experiences, whilst maximising participation for all communities.
Agile Rabbit is held in partnership with the Global Systems Institute at the University of Exeter.
VENUE: EXETER PHOENIX, Auditorium