This event has passed.
The Eskies
Cancelled
Category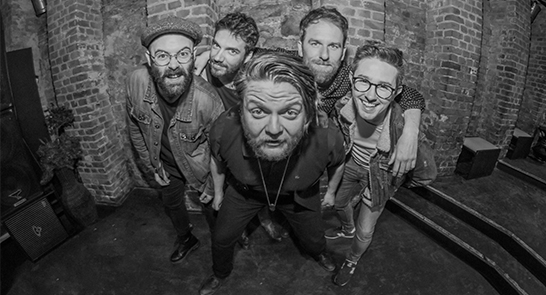 The Eskies
*Subject to a £1.50 ticketing system charge. We don't charge this to make a profit. Find out more >>
Cancelled
---
Sadly the band have decided to go their separate ways and so the gig will not be going ahead.  They have sent the following message;
"It is with great regret that we have collectively decided to disband The Eskies and to cancel all shows going forwards… In the seven years of playing together we have almost never cancelled shows, but for the sake of our collective mental well-being we feel we have no choice. We apologies profoundly for the difficulties we know this will cause."
---
The Eskies
Hailing from Dublin, The Eskies bring their unique brand of folk noir/gypsy jazz/sea shanty and swaggering stage spectacle to ballrooms and booze houses far and wide. The release of their second album 'And Don't Spare The Horses' on Absolute Record has cemented their position of one of the best emerging artists from Ireland.
Last year saw them play over 40 festivals in 5 countries, tour Ireland, UK, Netherlands and Switzerland as well as being invited to the influential new music festival Eurosonic Festival. Other notable festival performances included Glastonbury Main Stage Avalon, Main Stage Cambridge and Bestival. They have just finished a tour of Australia which took them to Port Fairy Festival who invited them half way around the planet before they had released a single song!
---
'A Melting Pot of sounds that screams 'get up and dance!'
RNR MAGAZINE
'Razor sharp arrangements and commendable restraint, they put most of their rampaging peers to shame'
ACOUSTIC MAGAZINE
Reviews for Latest Album 'And Don't Spare The Horses'
'A triumph of a second album… An uproarious, riotous assembly of song, sin and celebration… A marvellously over the top long player. Long live The Eskies'
NARC MAGAZINE
'A street corner sort of brass band, a male chorus worthy of Greek theatre and a stash of swinging folk songs, this is a bundle of joy'
VANGARD MAGAZINE
---
Venue: Exeter Phoenix