This event has passed.
The East Pointers
Category
Book Now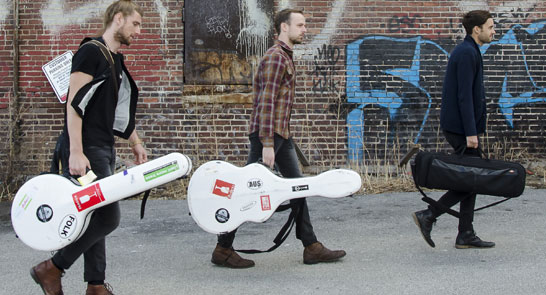 The East Pointers
*Subject to a £1 ticketing system charge. We don't charge this to make a profit. Find out more >>
The East Pointers
There's a reason, beyond their dazzling musicianship and wildly entertaining live shows, that The East Pointers have connected with audiences right across the globe, making new, original roots music the hippest, most vibrant thing going. The reason? The East Pointers – fiddler/singer Tim Chaisson, banjoist Koady Chaisson and guitarist Jake Charron – write about real life, sketching out its joys and sorrows in vivid strokes. That palpable authenticity makes their instrumental tunes practically cartwheel and infuses their lyric-driven songs with poignancy.
'Furiously energetic yet organic, celebratory yet cool, this is an impressive calling-card for a band who are soon to be making waves around the world.'
SONGLINES MAGAZINE
'Their live shows are known for their highly adrenalised and roof-rattling atmosphere… The album is a series of free-wheeling, feisty instrumentals'
IRISH WORLD
'The high-velocity trio expresses an intuitive freedom in its approach with savvy interaction and youthful vigour'
BBC RADIO 2
Venue: Exeter Phoenix