The Children In The Moon
The Makeshift Ensemble
Category
Book Now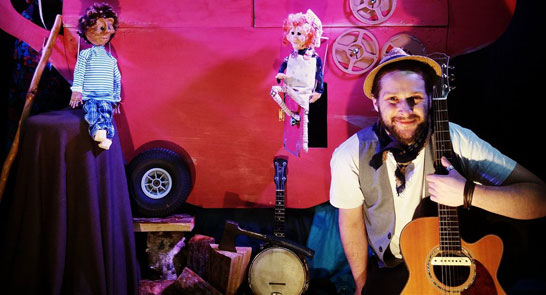 The Children In The Moon
*Subject to a £1 ticketing system charge. We don't charge this to make a profit. Find out more >>

The Makeshift Ensemble
The Children In The Moon
Join The Makeshift Ensemble and their travelling teapot of tales on a magical celebration of discovery, courage and diversity.
The Children in the Moon is a wonderfully visual and original take on centuries old children's verse, packed with puppetry and live music this is an ideal show for all the family.
We tell the story of Zack and Lil using our beautifully hand crafted puppets and our wonderful teapot of tales, a larger than life travelling teamachine which brews fabulous storiesand doubles as a stage on which our characters can explore, play and bring their tales to life.
Along side the puppets are two nomadic storytellers, who introduce the stories and nurture the yarns as they unravel. The MakeShift Ensemble, with their distinct and compelling style, aim to both discover and celebrate the wonderful things that make us different and the ties that bind the human family together.
Venue: Exeter Phoenix Auditorium