This event has passed.
The Carrivick Sisters
Category
Book Now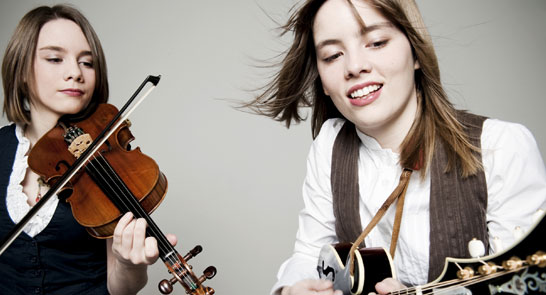 The Carrivick Sisters
Meal Deal available with this performance:
ENJOY THE SHOW PLUS A 2 COURSE MEAL FOR £19 (£17). To book call 01392 667080 (must be booked at least 2 days before event, subject to availability).
The Carrivick Sisters
Identical twin sisters Charlotte and Laura Carrivick have grown up playing and writing music together. Their unique style shows their strong bluegrass influences without obscuring their English roots. With tight harmonies that only siblings can achieve, they perform their original songs on guitar, fiddle, mandolin, dobro and clawhammer banjo.
'The Carrivick Sisters and Boden & Spiers offer up some of the delights of British folk music but The Carrivick Sisters are pick of the crop. There's is so much good American folk and country music that sometimes some fine homegrown music can easily be overlooked. The Carrivick Sisters play a variety of bluegrass instruments (essentially guitar, mandolin, banjo, dobro and fiddle) and although they are still only 21, From The Fields is their fourth CD – and very enjoyable it is too.'
THE DAILY TELEGRAPH
'Comparisons to Alsion Krauss & Union Station would not be out of place, for they are that good, swapping lead vocals and playing Dobro, mandolin and the rest like hardened veterans, but it's the English folk influences they bring to their music that give them a unique sound.' ????
R2 MAGAZINE
'Formidable multi-instrumental skills and songwriting, maturing at such a steep curve they'll soon be orbiting far beyond anyone else.' ????
Q MAGAZINE
VENUE: EXETER PHOENIX AUDITORIUM