The Carnivale of the Peculiar
Category
Price
£10 (£12 on the door)
Book Now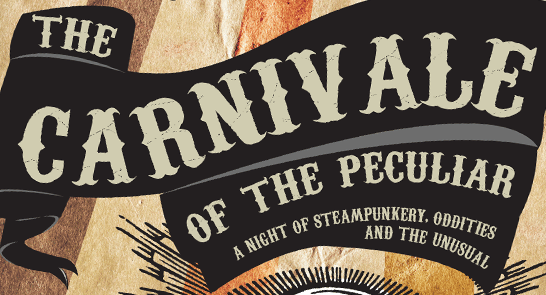 The Carnivale of the Peculiar
*Please note that there is a £1.25 booking fee per transaction
THE CARNIVALE OF THE PECULIAR
Exeter Phoenix and The Mysterious Freakshow present a night of Steampunkery, Oddities and the Unusual. Join us on a journey through the obscure and unusual, delight your senses and lose yourself in the Carnival of the Peculiar.
Music, Cabaret, DJ's, Dance Act, Performance Art, Dark Cabaret, Steampunk Market, Photography and much more ….
Steampunk dress optional … All Peculiars welcome!
Main Stage
11pm -12am: The Gaslight Troubadours
Described by David Katz in his recent 4 star Mojo Magazine review as 'Dr Jekyll meets Sherlock Holmes in the Funky Drummer's basement' and continually referencing Victorian England's seedy underbelly, The Gaslight Troubadours made a ghoulishly enthralling impression on the music world late last year with the release of their debut album Clockwork Curiosities. With radio support from the likes of Gideon Coe, Tom Robinson, and Stuart Maconie (BBC 6 Music), Huey Morgan (Radio 2), John Kennedy (XFM) and Max Reinhardt (Late Junction on Radio 3), and fans numbering the likes of Marc Almond and Peep Show writer Sam Bain, the future for these Hammer Horror beat obsessives looks bright. The men beneath the top hats are Professor Singleton Purblind and Lon Lippincot; dabblers in steam powered experimentation and the self confessed Burke and Hare of sample reconstruction. Live they've been described as 'the sort of entertainment attended by gentlemen (and ladies) with exotic tastes', and with a dancer, amazing visuals and theremins they'll certainly add something uniquely different to our night at Exeter Phoenix.
WEBSITE: FACEBOOK.CO.UK/THEGASLIGHTTROUBADOURS
9.45-10.30: The Mysterious Freakshow
The Mysterious Freakshow are a South-West based Alt-Rock and Steampunk Band formed in 2012. Mixing dark pyschadelic rock with pop sensibilities. Singer-songwriter Fey Pink has teamed up with Kye Godfrey on bass, Tracy Austin on drums, and Tom Rosenbloom on guitar. Together from their studio on the edge of Dartmoor they have created a number of brooding, atmospheric and beautiful songs that are both reminiscent of times passed yet have a distinctly modern feel. Their unique take on the Steampunk genre has allowed them to draw upon their varied and eclectic musical influences which include Kate Bush, Motorhead, The Cure, Brian Eno, The Damned, Siouxsie & The Banshees to name but a few. Although South-West based, The Mysterious Freakshow are presently gigging across the UK. They are also currently working on their debut album due for release in 2014.
WEBSITE: FACEBOOK.CO.UK/MYSTERIOUSFREAKSHOW
8.30-9.15pm: Needle Poppets
Punk piano duo with a penchant for gin and silly hats. What started in 2012 as a party-piece project for a young couple soon turned into an album's worth of material and a fully fledged band by the name of Needle Poppets. Resisting the temptation to add further band members, the duo has stayed as Alec Bond (piano, vocals, bass) and Alexandra Jones (drums, vocals). The stripped sound delivers both power and intrigue, drawing inspiration from the likes of The Dresden Dolls, Yeah Yeah Yeahs and The Divine Comedy. Mixing theatre and punk, the music is risqué and often refuses to behave. They have just released their debut album, Fame to the Nation, and are gigging around the Midlands and beyond.
WEBSITE: FACEBOOK.CO.UK/NEEDLEPOPPETS
Bar
DJ Perfect
A very Dapper Flapper lady DJ playing an eclectic blend of vintage, electro-swing and crowd pleasers & teasers.
WEBSITE: FACEBOOK.CO.UK/DJPERFECT
DJ Louie Louie
Purveyor of Classic, organic, vintage tunage and deliriously danceable digital beats for festivals, clubs or parties.
WEBSITE: FACEBOOK.CO.UK/DJLOUIELOUIE
Pure Mischief – Live Dance Act
UK based electronic producer and vocalist, projecting a message of love, empowerment and good corruption! Pure Mischief is a live Vocalist and Live festival Dance Act ! Sharing Peace love n Good Corruption x with an agenda to Empower and promote Forward Thinking. On stage, Pure Mischief's dance act is visually appealing with live vocals, UV decor and performance.
WESBITE: SOUNDCLOUD.CO.UK/PUREMISCHIEF
The Black Box: Darkside Cabaret
The Wattingers
The Wattingers music is stripped down to the bare bones, inspired by the old blues players. With a black sense of humour, they lean into the grimy underbelly of Western Steampunk, with influences from Tobe Hooper's Texas Chainsaw Massacre, Sante Sangre, El Topo, original Night of the Hunter, Cannibal The Musical and The Child Ballads.
Marc Lobb
Marc lobb is a performer of magic, mentalism and mindreading, experienced in this role Marc has won many accolades including the 2013 Exonian Close-up Magician of the Year Award.
WEBSITE: FACEBOOK.CO.UK/MARCSMAGIC
Miss Von Trapp
Murderously Quirky Dark Cello Cabaret: Morbidly Vaudeville Songs and Psychocello accompanied performance poetry to revolt and entertain… Miss Von Trapp was discovered at a folk festival in late 2006 clutching madly at her cello, muttering something incomprehensible about worms and claiming that 'they'd let her out again'. Noone can be entirely sure when or where she was originally unearthed but she's here now to revolt and entertain. She'll have you singing campfire singalong grisly folk songs, ghoulish rewrites of cabaret numb…ers, music hall songs traditional and her own and the odd bit of darkly humorous poetry thrown in for good measure… And with makeup reminiscent of Aunt Sally – a folk game played at fairs where the unfortunate dolly was the target of many a coconut – and possibly a tin of cat food about her person, Miss Von Trapp would prefer flowers or gin if you were to throw anything at all. Putting the fun into funereal since 2006 and performing live since 2007.

Revolutionary Radio Sound System
The Anarchic bunch from Phonic Fm's Revolutionary Radio take you on a dark journey through their twisted musical minds!
Sideshow
Countess Isabella's Automata
Countess Isabella's Automata are Time-Travelling Steampunk Molly Dancers originating from Deepest darkest Devonshire.
Countess Isabella and her dancing Automata are famous throughout the ages, performing their traditional English Molly style dances. Unfortunately, whilst travelling back from the Crystal Palace Exhibition, there was a fault with her time machine resulting in the whole group being trapped in the 21st Century. Isabella and her Automata continue to perform whilst searching for the correct parts to fix their device.
WEBSITE: FACEBOOK.CO.UK/COUNTESSISABELLAS
Rick Smith Photography
Ducklingski Creations
Veebscraft
Velveteen Clothes Emporium
Band/Act Merchandise
Shade Face paints
Human Gargoyles
VENUE: EXETER PHOENIX