The Bombing Of Exeter
In Sight And Sound
Category
Book Now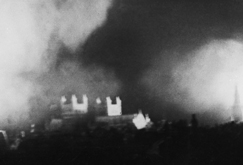 The Bombing Of Exeter
*A note on transaction fees
A small £1.50 fee is added to each transaction. This covers the cost of getting your tickets booked, that's everything from the booking software to card charges. We don't charge this to make a profit.
The Bombing Of Exeter
In Sight And Sound
The Bombing Of Exeter In Sight And Sound is a remarkable visual presentation to mark the 75th anniversary of Exeter's bombing.
The most tragic event in Exeter's history is shown with rare images and emotive survivors statements.
There are two opportunities to watch the visual presentation – 11am and 2.30pm.
Venue: Exeter Phoenix