This event has passed.
Talking About Trees (PG)
Thu 01 Jan 1970 - Thu 01 Jan 1970
Category
Book Now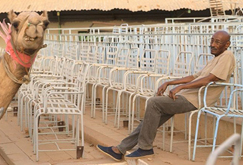 Talking About Trees (PG)
*Subject to a £1.50 ticketing system charge. We don't charge this to make a profit. Find out more >>
Talking About Trees
Dir. Suhaib Gasmelbari
2019 | 94 mins | France, Sudan, Chad, Germany, Qatar
Arabic with English subtitles
SHOWING TIMES:
Sun 16 Feb: 2pm

Wed 19 Feb: 6pm
---
TICKET PRICES:
£8* – Standard
£5* – Student / Under 25
£5* – Screenings Before 5pm (Excluding Sunday screenings)
£21* – 3 film tickets for £21
---
United by their love and passion, for four retired filmmakers operating as the 'Sudanese Film Club' work together to revive an old, abandon cinema and bring film exhibition back to the people in this beautiful documentary by Suhaib Gasmelbari.
Ruined by decades of war the northeast African country of Sudan is in a state of political and cultural instability and with a hostile attitude to the arts the country has experienced the disappearance of countless cinemas and filmmaking activity. Filmmaker Suhaib Gasmelbari follows Ibrahim Shadad, Manar Al Hilo, Suleiman Mohamed Ibrahim and Altayeb Mahdi, four veteran members of the Sudanese Film Club a driven to return cinemagoing culture back to the country.
They face religious and political resistance from all corners as they attempt to get the cinema owners on their side but remain determined to restore Sudan's cinematic past with affection, guts, dignity and a whole lot of humour.
---
VENUE: EXETER PHOENIX, STUDIO 74