TALK
Sat 12 Feb 2022 - Sun 13 Feb 2022
Category
Price
£12* | £10* Concession
Book Now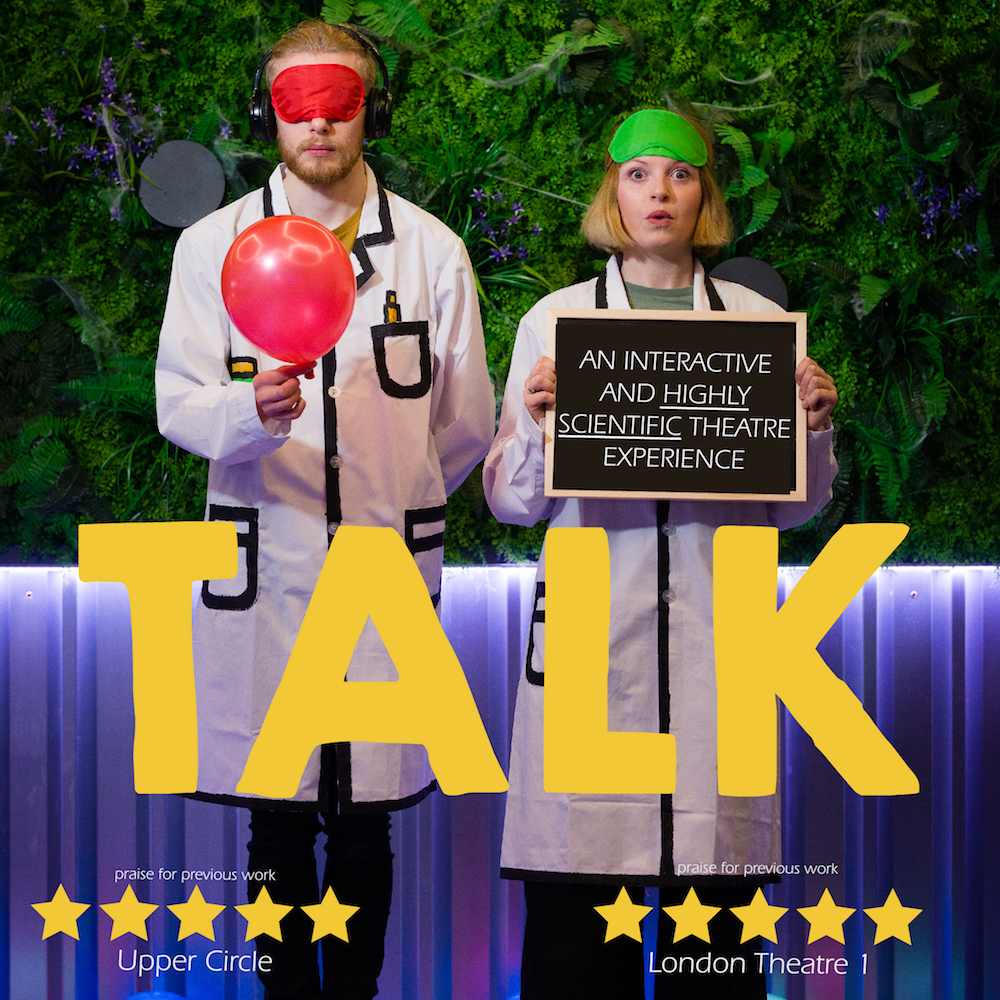 TALK
An interactive and highly scientific experience
---
Have we forgotten how to socialise? During the past 18 months we've all had to avoid human interaction.
Here at Kill The Cat HQ we've been examining the human population and reckon we all need a little help re-adjusting, so, don't worry we're here to help: prepare yourself for a once in a lifetime "social" event.
TALK is a social-scientific-experimental-game-show-installation-theatre-extravaganza. The Kill The Cat "scientists" will guide you through this unique interactive installation, a treasure hunt of communication –make a pot of tea, paint a portrait, share memories, dress-up in cardboard armour and there's a few surprises along the way, some pops and bangs and mad cap fun.
(Full disclosure, for legal reasons, this is in no way scientific but it will get us all talking again -probably)
---
SHOW TIMES:
Sat 12 Feb: 6pm
Sat 12 Feb: 7pm
Sun 13 Feb: 2pm
Sun 13 Feb: 3pm
Sun 13 Feb: 6pm
Sun 13 Feb: 7pm
---
'Kill The Cat gives the audience a joyous sense of freedom that is rare in any theatre' 
THEATRE WEEKLY
---
TICKET OFFERS
First 5 tickets: £5
Take advantage of our new early bird special! The first 5 tickets to this and other shows are just £5. The discount will be applied automatically at the last checkout screen, or call our box office on 01392 667080 to check availability.
Save £6 when you book any 3 theatre/dance shows
Explore more of our theatre and performance programme, and enjoy money off your tickets! Save £6 when you book for three shows from our performance programme. Book any three theatre or dance shows and your £6 discount will be applied automatically.
---
ABOUT KILL THE CAT
Kill The Cat is an award winning South West based interactive theatre company. Run by co-artistic directors Dylan Frankland & Madeleine Allardice, and produced by Turtle Key Arts. We are 'paving the way for an exciting new wave of immersive theatre' (London Theatre Weekly). Using interaction to tackle social issues, giving the audience agency and choice; but above all creating a shared sense of community & play.
---
VENUE: This piece takes place across various spaces in the building.
---
*Subject to a £1.50 ticketing system charge. We don't charge this to make a profit. Find out more >>