Stornoway
The Farewell Tour + Brasstronaut
Category
Other Information
standing
Book Now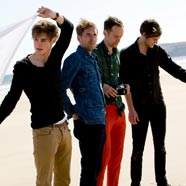 Stornoway
*Please note that there is a £1.50 fee per transaction
STORNOWAY
Plus special guests Brasstronaut
Stornoway
After more than ten years playing together Stornoway have decided that now is the right time to end, and see this upcoming tour as the perfect send off.
Stornoway have released three studio albums, a surprise mini album and two EPs. Their most recent effort, 2015's Bonxie, saw the band combine their two great passions, music and nature, to create a record indebted to the natural world and specifically, birds. Produced by Gil Norton of Foo Fighters and Pixies fame, the record saw Stornoway take a step out of their comfort zone, creating something bold and inherently beautiful. The record was a success, entering the UK Charts inside the Top 20. The touring cycle saw the band play two, sold out shows at Oxford's Sheldonian Theatre, five years after they were the first pop band to play the venue.
Having initially formed in 2005, Stornoway have had an undoubtedly stellar career, full of landmark moments. In November 2009 they became the first unsigned band to appear on Later… With Jools Holland, performing alongside Sting, Jay – Z and Foo Fighters. They signed their record deal with taste making indie label 4AD in Stornoway, also playing a landmark gig on their first visit to the town that gave them their name, in April 2010.
Running Times
8.15-8.45: Brasstronaut
9.15-10.45: Stornoway
VENUE: EXETER PHOENIX