Stone Carving
One Day Workshop
Category
Book Now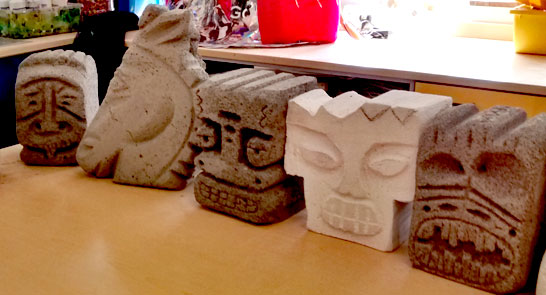 Stone Carving
*Please note that there is a £1.50 fee per transaction
Stone Carving
ONE DAY WORKSHOP
An introduction to stone carving skills and processes, this workshop will guide you through making a sculpture for your garden.
Working on a half block of thermalite breeze block using surforms/saws and files. Using your own ideas or working from forms in nature, the day will consist of a short introduction by the artist about her work, followed by instruction on how to get a 3D shape from the block. Participants will be encouraged to use their own ideas for the sculpture but the artist will provide inspiration if needed. Do bring your own references, photos or drawings: a good idea is usually a simple one! Anne Marie will provide support as works progress through the day.
All materials are provided.
Masks/goggles will also be provided and worn where necessary.
PROFESSIONAL TUTORS
Anne-Marie Moss
Anne-Marie Moss works in stone and makes unique sculptures, exhibiting on a regular basis, mainly in the UK. Some pieces are inspired by nature and produce organic abstract forms. Others depict the human condition; themes include mother and child, family groups and relationships. She often uses stone sourced in the West Country.
Anne-Marie also accepts commissions, and has worked with various theatre companies including Glyndebourne and Theatre Clwyd.
Venue: Exeter Phoenix